Description
10-inch OffRoad Electric Magnet and the best prices to suit most electric backing plates.
Left side and right side magnets are not interchangeable.
Left side is the passenger's side
The right side is the driver side
The purpose of the rubber band is to hold the magnet into position while you insert the drum onto the axle profile and tighten.
Why can't I run the electric cable across my axle?
Click this link to check the correct cable size for your installation
Run down each chassis rail = 6mtr @ 6.4 Amps per pair of magnets = 5.62mm cable size
Run down the chassis trailer (inside) = 6 metre + 2 metre (8mtr) @ 6.4 Amps per pair of magnets = 7.5mm cable size
To escape voltage drop, run your cabling down the chassis rail.
If your magnet needs replacing or upgrading from a standard magnet, then it may be wise to replace the whole backing plate. You can review backing plate prices here.
The magnet in the third image was a standard magnet used on corrugated roads for only two weeks.
Offroad magnets have a plastic insert that prevents the magnet arm causing damage to the magnet from corrugated road vibrations. (image 2)
Offroad magnets continue to show no wear tens of thousands of miles on corrugated roads.
We firmly recommend offroad magnets for all caravans and trailers using electric brakes in an offroad journey.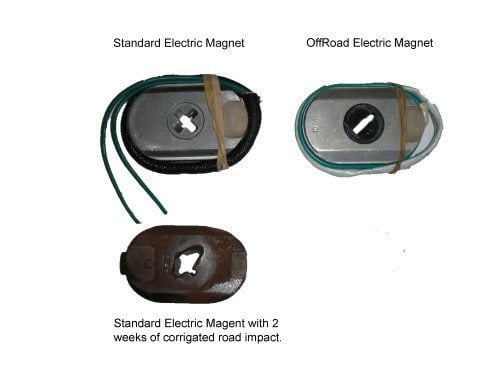 Damaged Electric magnet caused by rough dirt roads.