Description
Bearing Hub Temperature Sensor
The bearing hub temperature sensor (Pair) measures normal and abnormal temperatures that occur during the life of a wheel bearing or industrial bearing.
Using BLE technology, the sensor connects to an IOS or Andriod App. Maximum conductivity is 20 meters however, you may also to choose 3G conductivity for remote reading. For example, rail wagons, truck fleets and like applications.
Other uses include heavy-duty commercial and industrial processors where identifying the problem prior to failure can save large amounts of downtime.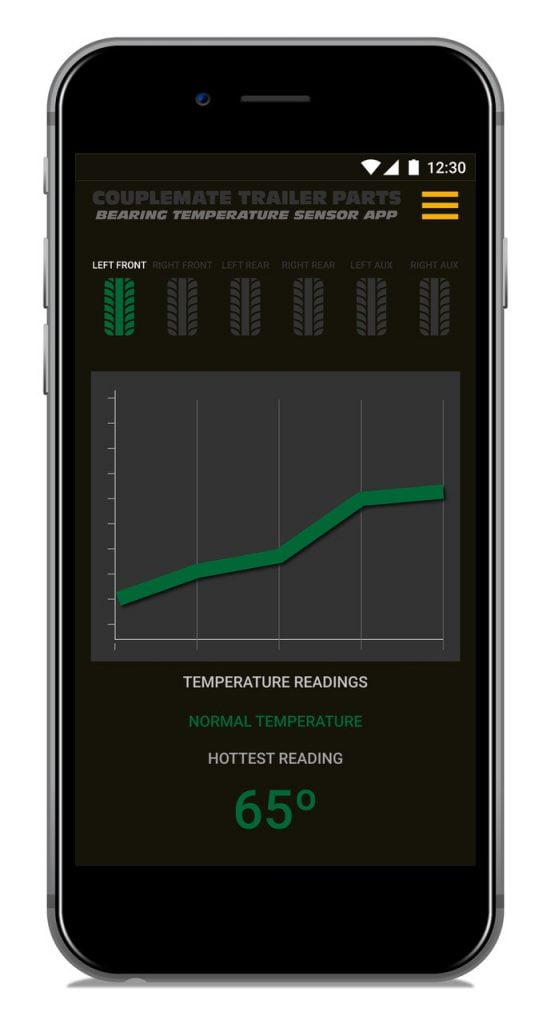 The app will read 6 sensors in total.
Left Front Hub
Right Front Hub
Left Rear Hub
Right Rear Hub
Auxilary
Auxilary
A graph indicates the following bearing status
Normal Temperature
Slight Bearing Wear
Critical Bearing Wear
Imminent Bearing Failure
Please note: 2 pair will be required for tandem trailers and caravans. Sold per pair.
Tyre and Temperature Sensors
Tyre and temperature sensors provide accurate information at the tyre value. It is important to note that they do not measure bearing temperature.
How does the bearing sensor work?
Bearings reach critical temperatures due to wear and tear. The bearing coatings are extremely durable, however, 80% of bearing failures are caused by contaminants in the grease.
The failure of bearing coatings cause increasing amounts of heat until failure.
This temperature sensor measures heat through the various stages up to and including complete bearing failure.
Warning alarms and colour-coded graphics alert the driver when maintenance is required in order to prevent failure.
Please note: Not yet available
Why are bearing sensors important?
Our staff at Couplemate often receive emergency calls for parts and equipment west of the Great Divide.
Generally, these calls are broken springs, broken drums caused by bearing or stud failure.
Stud failure can be resolved by installing wheel nuts indicators that move when nuts become loose.
As a result of a constant stream of bearing failures, Couplemate developed temperature sensor technology to enable it to be inserted into hubs, drums and disc rotors.
This new technology is expected to assist mechanics during servicing events and enable them to replace bearings that would otherwise be undetectable as faulty.
Bad bearings cost owners money to tow the caravan to a repairer, accommodation whilst the part comes into town and of course food.
The preventative price for bearing temperature sensors is a relatively cheap investment.
Patent 2020100028 Entitled A Temperature Sensor Assembly
Couplemate Trailer Parts sells only the best quality Bearing Hub Temperature Sensor and caravan spare parts throughout Australia.
Customers are welcome to either pickup or take advantage of our low freight rates. Express shipping to Melbourne, Sydney, Brisbane, Perth, Adelaide, Darwin, and Hobart.
We also ship products to New Zealand via Australia Post Air Express.
© Steve Wotherspoon June 17, 2020. Images and text may be copied, provided a link back to the copied page and the source is displayed where the content or image is located.
Last Updated on