Ford Slimline
Slimline or Ford Bearings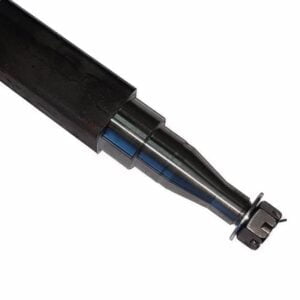 Ford slimline bearings are rated to 1450kg for all axle diameters. The bearing profile determines axle rating and not the diameter of the axle.
The term axle profile describes the machined part or shinny part of an axle.
Axle machining begins at the thread end and finished on the rear square shoulder.
Fit weld rings up against the shoulder in the case of electric turn axles. Marine turn axles require a different type of weld ring. Contact us for more information.
A 1450kg standard bearing kit comprises
Small Outer – LM12749 – ID 22.00mm – OD 45.20mm
Large Inner – LM68149 – ID 35.00mm 0 OD 59.10mm
The ATM (Aggregate Trailer Mass) of a trailer is determined by
Spring Rating
Axle Rating
Bearing Rating
Where the lowest rating of any of the above components signifies the trailer ATM.
How to calculate trailer ATM
Weight of the bare trailer
Weight of the payload
Jockey Wheel Weight
Changing the lowest common denominator above changes the trailer ATM.
Showing all 8 results