Description
BC300 Monitors all Connections Directly from the Battery
BMPRO BC300 External Shunt and CommLink provide additional battery monitoring for your BatteryPlus35 and J35 systems.
The BatteryPlus35 and J35 battery management systems allow high current loads and external charge sources to connect directly to the battery via the BC300 External Shunt.
This enhances system behaviour with temperature monitoring of the battery for greater protection.
Key Features
High current/external charge  monitoring
Wireless Bluetooth communication to Commlink – easy to install/retrofit
DIY installation and simple pairing procedure
Connect these models below to your Smart Android Phone or iPhone via the Commlink.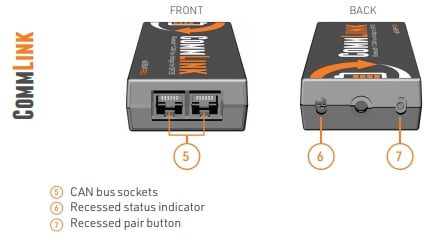 Connection Sequence
BC300 ➙ Commlink ➙ J35 or BatteryPlus ➙ Smart Phone
Battery Properties Monitored
Voltage
Current (charging / discharging)
Energy usage (Ah)
Temperature (not displayed)
BC300  also provides your BatteryPlus35 and J35 with additional information on battery usage, so your displays such as the Trek, JControl and JHub are always up-to-date on battery Time Remaining and the State of Charge.
The BC300 External Shunt and CommLink communicates via Bluetooth and CAN bus. The BC300 External Shunt is designed for 12V batteries up to 800AH incapacity. The shunt is rated for ±240A constant and 300A peak.
Specifications
Output 0.9/3.0/4.0 Amps
Input 240V, 50Hz
Battery Size 12-12 Ah
Type Lead Acid, LiFePO4
Battery Chemistry AGM, Gel, Calcium or Wet, LiFePO4
Charger Type Multi-stage
Power Supply Mode 12V
Downloads
Note: After connection, depressing the right-hand button on the Commlink activates the Bluetooth connection between BC300 and the Management System
Couplemate Trailer Parts sells only the best quality BC300 incl Commlink and caravan spare parts throughout Australia.
Customers are welcome to either pickup or take advantage of our low freight rates. Express shipping to Melbourne, Sydney, Brisbane, Perth, Adelaide, Darwin, and Hobart.
We also ship products to New Zealand via Australia Post Air Express.
© Steve Wotherspoon May 5, 2020. Images and text may be copied, provided a link back to the copied page and the source is displayed where the content or image is located.