Solar Volt/Watt Meter
The Solar volt/watt meter is a simple device for measuring input and output currents and wattage from solar panels or batteries.
The Chargeguard® digital wattmeter accurately measures DC power usage. The LED display measures volts, watts and amps in real-time.
The solar meter has a DC data scroll of eight key electrical parameters which reset every time the meter is powered off.
The DC 00meter is ideal for monitoring the output of solar panels or current draw from dc appliances such as portable fridges. 50A connectors provide an easy connection to the supply and load.
Chargeguard® is the registered name of TrailerVision Australia.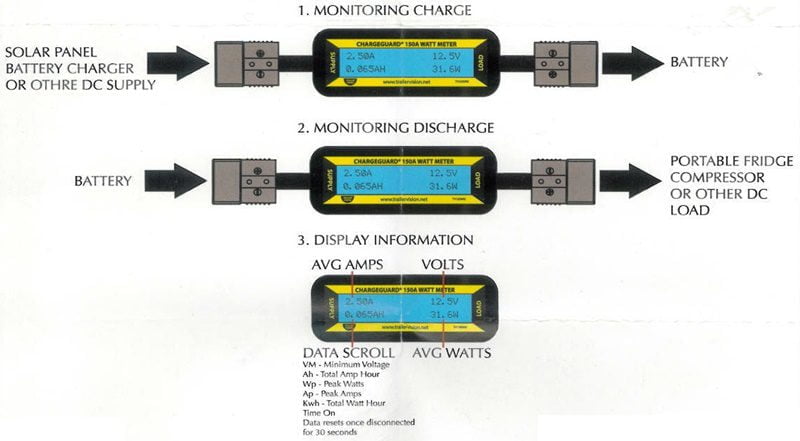 Key Features
4.8 - 60 VDC is ideal for 12v or 24v DC electrical systems.
Displays volts, amps, watts and AVG watts.
The LCD Display is backlit.
Heavy-Duty power connectors for easy connection
Use with fridges, solar panels, dual battery systems and battery packs
Light and portable.
Operating Instructions
Connect the Chargeguard® digital wattmeter in series between supply and the load. Ensure correct polarity when connecting to your electrical system.
Once connected, the meter will light up and display information almost instantly. The meter resets once disconnected.
Connect the meter in 2 ways. See the diagram above showing the connection of the meter to monitor charge and discharge devices.
Meter Specification
Voltage: 4.8 - 60vdc
Current Max: 50A Continuous
Operating current: 7mA
Data Scroll Time: 2 seconds
Operating Temperature: 0-50 degree Celcius
Warning: Do not Exceed specification limits
Additional information
| | |
| --- | --- |
| Weight | 0.5 kg |
| Dimensions | 15 × 10 × 5 cm |