Trek3 RV Battery Monitor LED
Trek3 RV monitor is designed to work with the BatteryPlus35 battery management system. Connection to the BatteryPlus35 via CAN bus cable, it continuously monitors information providing vital data at a glance.
Monitors and displays vital battery information such as volts and amps, charge and discharge status, auxiliary and solar currents, and remaining battery capacity.
It displays information on water tank levels and controls two water pumps with an on/off switch. The user can also quickly and easily isolate the battery from loads with the battery isolate button.
The backlit LCD of the RV battery monitor looks stylish and is easy to read. One can also use the backlight as a night light.
The Trek3 can be connected to the OdysseyLink103 (included in the retail package0) to become a part of the Odyssey system. OdysseyLink103 enables SmartConnect Bluetooth sensors and the use of a free Odyssey App to remotely monitor the battery and control the caravan's water pumps from the mobile phone.
Trek3 has two mounting options (flush / half recessed). We offer caravan manufacturers multiple front fascia colour options to suit the design of your van.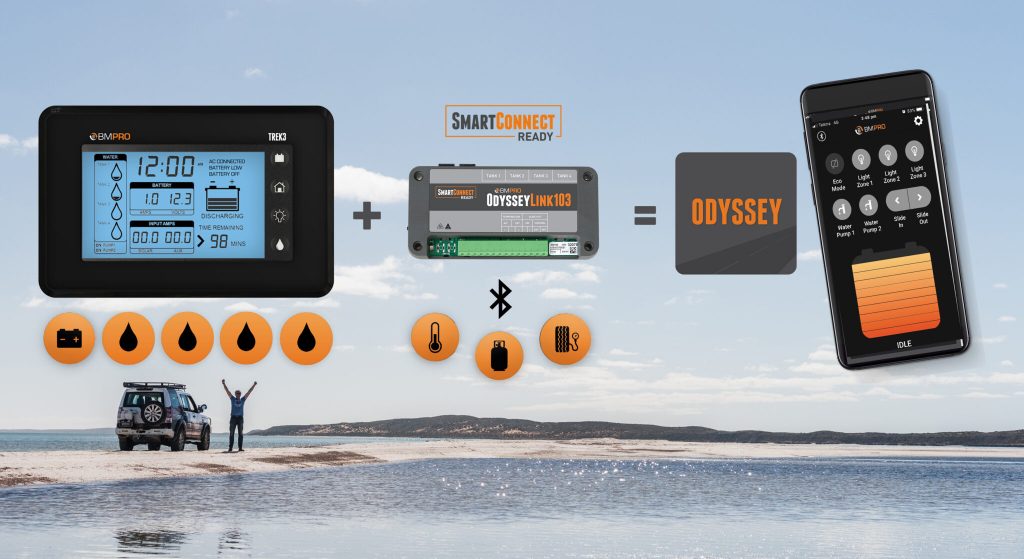 Monitor
Battery voltage and charge status
Battery charging and discharging currents
Auxiliary and solar charging currents
Time remaining to discharge
Level indication of up to 4 water tanks
Time am/pm
Water pump status
The battery on/off status
Other Features
The backlight can be set as a night light
Control 2 water pumps through BatteryPlus35
Function to disconnect the battery from the load
Specifications
Input Voltage 8V to 16V
Monitored Battery Capacity 50Ah to 600Ah
Visual Warning 11.0V (Low Battery)
Water Tank Monitoring Dipper or Tank Bungs
Clock 12hr or 24hr
Backlight Configurable
Battery Drain < 22mA
Operating Temperature 10°C to 50°C
Dimensions W164mm x H108mm x D22mm
Installation Wall-mounted
BMPRO products are available from Couplemate in Wynnum, Queensland. Please contact us before visiting to ensure we have sufficient stock.
Find the full range of BMPRO products below
Additional information
| | |
| --- | --- |
| Weight | 1 kg |
| Dimensions | 20 × 10 × 5 cm |