LPG Caravan Gas Gauge Bluetooth
LPG caravan gas gauge by BMPRO takes the guesswork out of "how much gas is in the LPG gas bottle".
The most advanced and accurate gas bottle monitor arrived for Australian BBQ lovers and RVers.
Editor Note: "I purchased one of these Gas Gauge Level Monitors and installed it under my BBQ. I was running out of LPG 1/2 way through a cook, but not any more. It is just like a fuel gauge".
How can I recharge SmartSense?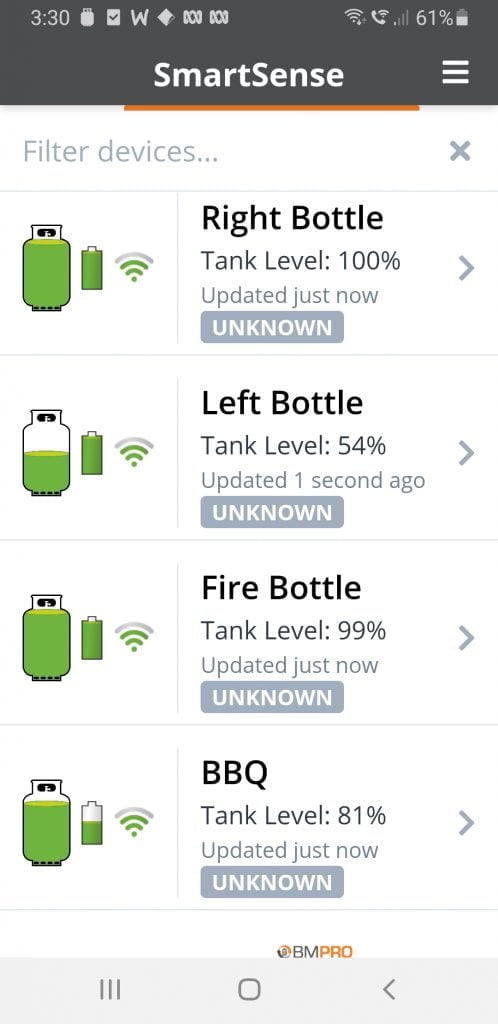 The Bluetooth sensor has a standard non-rechargeable 3V round battery pack CR2032. The app is easily downloaded and works on all Bluetooth 4.0 + Low Energy (BLE) devices.
Features
Compact, lightweight, tough, water and dust resistant
Suits most portable domestic gas bottles
Easy DIY installation with extra strong magnets
Communicates with smartphones via Bluetooth
Part of SmartConnect range
Free SmartSense app via Google Play and iTunes App Store
Compatible with BMPRO Smart RV systems JHub, Odyssey, JAYCOMMAND, RVMaster
SmartSense is an advanced, small monitor (approximately the size of a business card).
Smartsense attaches to the underside base of a gas cylinder with two strong magnets.
It detects the gas level remaining in the bottle and sends information via Bluetooth® to a smartphone. The current state of charge is indicated and changes according to usage.
The app includes alarm notifications to inform the user the gas level detected, is below the settable threshold.
Multiple Gas Bottles
The SmartSense app allows monitoring of numerous gas bottle levels from one phone.
Smartsense works with the standard domestic portable gas bottles and provides options to select from 3.7 kg or 8.5 kg cylinders. Further, input bottle height to manually input bottle size.
Users configure settings individually for each monitored cylinder, including naming the cylinder, alarms and unit of measurement to be displayed as a percentage or in centimetres.
Caravanners are running BBQs, stoves, or fridges on gas; café owners using outdoor gas heaters; BBQ lovers and everybody else using liquified gas will find this app to be highly useful and convenient.
Smartsense takes the guesswork out of understanding how much gas is remaining. Never run out of gas again.
Changing the Battery
The LPG bottle level is displayed on the IOS or Smartphone app.
We often get questions about the battery and battery replacement.
The condition of batter #4 on the right image is 50%. This battery is approximately 6 months old and will require replacement soon. We suggest battery replacement once they indicate less than 10% power.
The video below by BMPRO shows how to replace the Smartsense battery.
Finally, this gas bottle level monitor makes an excellent Christmas present for a caravanner who has everything.
Additional information
| | |
| --- | --- |
| Weight | 0.1 kg |
| Dimensions | 8 × 5 × 1.5 cm |