Tekonsha Prodigy P2 Electric Caravan Brake Controller
Tekonsha Prodigy P2 is one of the most versatile brake controllers on the market. It features digital voltage and reverses polarity protection which is the cause of most installation failures.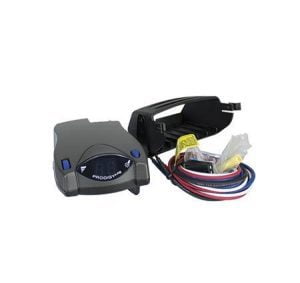 Reverse battery protection for both vehicle and breakaway
Designed to work with electric over hydraulic brake systems
Numerous mounting options - including 360-degree vertical rotation
Digital display depicts voltage delivery to trailer during braking
No level adjustment is necessary - it adjusts itself to varying terrain as you drive
Great for backing into tough spots! Works proportionally in reverse with the ability to disable when not needed
Produces stops that are in proportion to a vehicles deceleration rate
"Boost" feature gives users the ability to apply more initial trailer braking power when towing heavier trailers
Continual diagnostics check for proper connection, shorted magnet conditions and much more
Quick and easy disconnect feature allows a user to remove and store the control when not in use
Electric trailer brake control for up to 4 braking axles
Limited lifetime warranty
Setup Process
"I would recommend you start over with your Tekonsha Prodigy P2 Brake Controller and go through the setup process again so that it will be properly set up. A good startup procedure."
The first step is to connect your trailer to your tow vehicle. Next, with the engine running, hold the manual lever full to the left and set the power knob to indicate approximately 6.0.
Now you will want to drive your tow vehicle and trailer on a dry, level, paved surface and fully apply the manual lever. If the trailer tires lock up to turn down the adjustment knob. You will want to repeat the previous step until you set the brakes at a point that is right before tire lock-up. Finally, you will want to use the brake pedal to make a few low-speed stops to check the power level.
More links to brake controllers are listed here
Additional information
| | |
| --- | --- |
| Weight | 1 kg |
| Dimensions | 20 × 13 × 10 cm |