100mm Trailer Light LED, Stop Tail, Indicator Light, 12v Submersible
100mm trailer led stoplight. 4 Stop LED 4 Indicator LED's Reflector. Submersible to 1 meter. Simple to fit.
Feature of LED Combination Tail Lights
4 Stop LEDs
4 Indicator LEDs
Reflector
10cm x 10cm
Submersible to 1 meter
Trailer Number Plate Light
12v - 30v
100mm LED Trailer Light advantages
Longer life span than incandescent lamp bulbs.
Lower wattage use than older bulbs.
LED lights have multiple lights. An outage of a single bulb does not prevent the dispersal of light.
Truck Lights
24v is the voltage required for truck lighting and other 24v installations.
More information on Tail Lights for Caravans
LED is the acronym for a Light Emitting Diode. As a result of current passing through a diode, light is emitted.
Source: https://en.wikipedia.org/wiki/Light-emitting_diode
The trailer used coloured lenses to cover white-emitting diodes. A broken light lens means the entire lamp needs replacing.
Replacement lenses for incandescent lights or lamps are almost impossible to find.
Associated lighting equipment
Quite often, installing new lights causes the tow vehicle to flicker. Flickering is a severe problem, as the onboard computer will report the issue to your dash.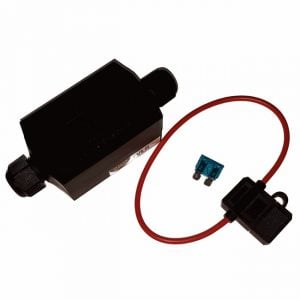 Installing an ECU to bypass the vehicle computer fixes flickering indicator light problems.
The onboard computer measures resistance, wattage and voltage drop to the newly installed lamps. It is quite likely the new lights fall outside the computer specifications.
The best remedy, used by many tow bar installers, is to install a new ECU (electronic control unit) to control the LED light kit.
In 100% of cases, installing the ECU fixes problems with the vehicle's flickering lights.
Additional information
| | |
| --- | --- |
| Weight | 0.25 kg |
| Dimensions | 10 × 15 × 2 cm |
| Select Lamp | Incl Number Plate Light, No Number Plate Light |