Description
Dexter rubber grommet dust cap will fit most 4 and 5 stud American trailer hubs, drums and disc rotors. Dust caps are also called grease caps.
Dust cap sizes are:
1.98″ Chrome
2.441″ Chrome
2.75″ Chrome
Replacement rubber grommet fit 1.98″ and 2.441″ caps only.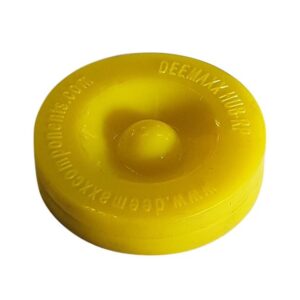 Chrome Plated Accu-lube Grease Cap suits Boat trailers or utility trailers. The Rubber plug easily removes to access your grease fitting.
Easy to check contaminated grease. Just remove the rubber ring and check for black or brown bearing grease. If black or brown grease found, remove the entire hub and re-grease.
Black grease is caused by bearing wear. The casting on the bearing wears over time.
Poorly adjusted bearings cause heat and greatly accelerates bearing wear.
Question: Should I fill my dust cap full of grease.
Answer: No, the purpose of the grease cap is to catch excess grease from the bearing cavity. Your grease cap should be inserted dry.
Grease is generally in oversupply during the greasing process and will exit the bearing cavity at high speeds and during the initial heating and cooling process. Note: Grease never re-enters the bearing cavity once caught in the grease cap.
Further, remove all grease and clean when removing grease caps.
What is the purpose of the dust cap?
To catch grease?
Or to prevent the ingress of dust?
To assist bearing inspection. If you see black grease in the dust cap, then your bearing requires a clean and readjustment or replacement.
The resultant bearing wear causes carbon to discolour the grease,
Other Dexter standard caps
Purchase similar grommet here:
Dexter Rubber Grommet Dust Cap
Couplemate Trailer Parts sells only the best quality Dexter Rubber Grommet Dust Cap and caravan spare parts throughout Australia.
Customers are welcome to either pickup or take advantage of our low freight rates. Express shipping to Melbourne, Sydney, Brisbane, Perth, Adelaide, Darwin, and Hobart.
We also ship products to New Zealand via Australia Post Air Express.
© Steve Wotherspoon December 1, 2019. Images and text may be copied, provided a link back to the copied page and the source is displayed where the content or image is located.