Description
2t Parallel Galvanised Australian Dust Cap fits 63.5mm or 2.5 inches
2t – Parallel Galvanised Australian Dust Cap fits 63.5mm or 2.5 inches.
Dust caps are a pressed metal compression fit. Compression fit means the cap is a little larger than the hub opening. The lip on the cap is squeezed as it is held into position.
Caps lose compression after multiple uses. When this occurs, replace the dust cap on your trailer. More information is contained further in this article.
Fits the following Hubs and bearing sets;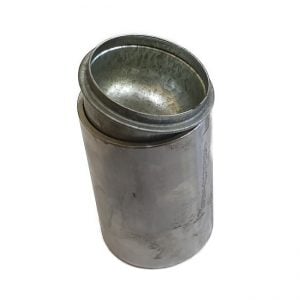 Some hubs do not have machined chamfers in the boss and rear of the hub. Insertion can be difficult. Using a pipe of the correct diameter can greatly improve the ease of which the dust cap can be installed.
Dust cap can become lose if hammered into positio0n too frequently even on the first insert. Once the dust cap is home, stop hitting it. An extra hit can actually make it loose-fitting.
Professional workshops use a dolly to insert caps into hubs, disc rotors and drums. Dollys are a great investment and last a lifetime. Click the image to purchase.
Question: Should I fill my grease cap full of grease.
Answer: No, the purpose of the grease cap is to catch excess grease from the bearing cavity. Your grease cap should be inserted dry.
Grease is generally in oversupply during the greasing process. Grease will exit the bearing cavity at high speeds and during the initial heating and cooling process. Note: Grease never re-enters the bearing cavity one caught in the grease cap.
Bearing Buddys can be used to replace a dust cap.
What is the purpose of the grease cap?
To catch grease?
Or to prevent the ingress of dust?
Read why do dust caps and bearing buddy's fall off? 
Purchase other Australian dust caps here:
Couplemate Trailer Parts sells only the best quality 2t – Parallel Gal Australian Dust Cap and caravan spare parts throughout Australia.
Customers are welcome to either pickup or take advantage of our low freight rates. Express shipping to Melbourne, Sydney, Brisbane, Perth, Adelaide, Darwin, and Hobart.
We also ship products to New Zealand via Australia Post Air Express.
© Steve Wotherspoon December 2, 2019. Images and text may be copied, provided a link back to the copied page and the source is displayed where the content or image is located.