45.2mm Standard Dust Cap (Australian)
45.2mm standard dust cap can become lose if hammered into position too frequently, even on the first insert.
Zinc plated caps should be avoided in favour of the galvanised versions. Australian made standard and parallel caps are made from galvanised sheets.
Dust Cap Dolly – SL, Parallel, 2t Al-ko Commercial trailer builders, OEM and service mechanics should also purchase this dust cap dolly.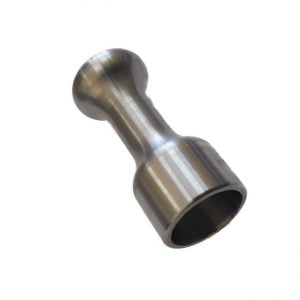 If you are new to the world of towing, it can be a little overwhelming to understand all of the tips and tricks. Don't despair; our experts are just a phone call away.
Standard dust caps fit the following hubs and bearing sets;
LM or Holden Bearings.
Slimline or Ford Bearings.
Flangeless Hubs.
Some hubs do not have machined chamfers in the boss and rear of the hub.
Insertion of any dust cap can be painful.
Using a pipe of the correct diameter will significantly improve the ease with which the dust cap inserts.
Dust cap can become loose if hammered into position too frequently, even on the first insert.
Once the dust cap is home, stop hitting it. Extra hitting can make the grease cap loose-fitting.
Question: Should I fill my grease cap full of grease.
Answer: No, the purpose of the grease cap is to catch excess grease from the bearing cavity.
Grease is generally in oversupply during the greasing process.
Grease will exit the bearing cavity at high speeds and during the initial heating and cooling process.
Grease never re-enters the bearing cavity once caught in the grease cap.
What is the purpose of a standard galvanised grease cap?
To catch grease?
Or to prevent the ingress of dust?
The correct answer is, that both options above are suitable.
Finally, learn how to install marine seals correctly? Please view our video here.
Easy Steps to Install a Marine Bearing Seal Correctly
45.2mm Standard Grease Cap for Caravans and Trailers
Additional information
| | |
| --- | --- |
| Weight | 0.01 kg |
| Dimensions | 5 × 5 × 4 cm |