Caravan, Camper and Trailer upgrades start with the Wheel Offset
When upgrading your current caravan wheels, first measure your wheel offset. Place the wheel on the ground, face down and put a straight edge across the tyre.
In the case below the wheel, the offset is 8 inches or 200mm. What can go wrong?
First of all, when buying replacement wheels, it is unlikely you will be sold a wheel with the same offset. You need to take into consideration wider wheels and different offsets, so purchase your wheels first.
Also, it is quite common for folks to measure a tyre and see the tyre touch the chassis rail when bolted into position. It would help if you had between 35mm to a 50mm clearance between tyre and caravan chassis rail with the tyres fitted to the drums.
Secondhand tyres may have sustained wall damage that you would not know about.
If you want a set of tandem tyres rated up to 4,500 kg or greater, then look at the tyre's rating because most off-road tyres are 1,050 kg.
---
Wheel PCD
Now let's talk about PCD or Pitch Circle Diameter. With your wheel PCD and Offset, we can get that Axle located, so it fits your trailer the first time and performs to all your expectations.
Trace around your wheel studs with a piece of paper and a pencil, then measure the diameter.
A 1/4″ difference in diameter can make the difference between the right drums and the wrong drums.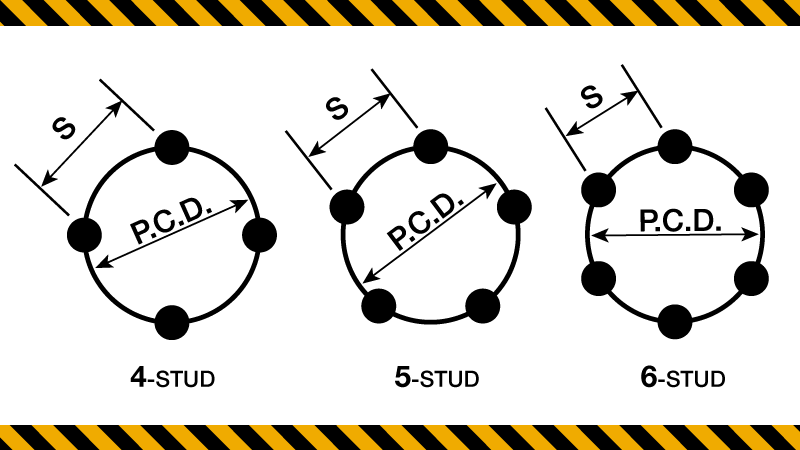 ---
Caravan Axles
Most caravan and camper upgrades occur because existing axles have been worn out, or the trailer is now running at a heavier weight than the original axles can handle.
Buying a caravan axle from a company you can trust is the best investment you can make.
Australian workers make Couplemate quality axles.
Upgrade to 45mm Round or 45mm Square Axles with 1600 kg Parallel bearings sets are common for trailer and caravan owners.
This setup will take you almost everywhere except Cape York, corrugated roads, and off-road usage. Be sure to see our FAQ about electric magnets on corrugated roads.
Upgrades to 45mm Round or 45mm Square Axles in parallel bearing format is a winner if you want a sturdy trailer.
Parallel bearings and 10" Drums give you 1600 kg capacity.
For hefty caravan rigs, 50mm square or 60mm round Axles with 12-inch off-road electric braking systems is the ultimate for those heavy rigs that will cop a pounding.
The most common bearing configuration upgrades we provide are for the following ratings:
LM Holden – 750kg per axle
Composite – 1000kg per axle
SL Ford – 1450kg per axle
Parallel – 1600kg per axle
ALKO 2T – 2250kg per axle
ALKO 3T – 3000kg per axle
If you know your PCD and wheel type, then talk to us about your ideal setup. Our job is to keep your caravan from breaking down when you hit the road.
Customers from small campers to mining companies have upgraded successfully after experiencing problems with their rigs.
Most setup problems come from unforeseen circumstances. If we know where you are going and what you wish to do with your rig, we can help you get it the right first time.
You may have a big earth-moving rig that has a problem; we can help with it too.
---
Off-Road Couplings
Coupling upgrades have been a tough issue for many years.
Simple snap coupling rated at 2000 kg will suit most trailers. Override couplings suit disc brakes.
Electric disc brakes do not exist at this stage.
Car carriers and beach work trailers mostly install over-ride disc braking systems.
The most popular off-road coupling in Australia is the DO35 Cruisemaster.
Other offroad couplings include Al-ko and Oz Hitch. In conclusion, not many Off-road Couplings have an ADR compliance or CRN (Commonwealth Registration Number). These two products comply with ADR Approvals.
During your upgrade audit, you may also look at your LED lights, solar power, solar panels, shower toilet, air conditioning, and other creature comforts.
Finally, a great article about caravan spring choices can be read here.
If you got tips for your road caravan, please leave a review
© Steve Wotherspoon 5th May 2014
---
* Life Time Guarantee applies on all Couplemate Manufactured products provided those products are installed and used according to manufacturers product recommendations located on our Terms and Conditions Page.
If your purchased product is not in our trailer parts store, then the product is not manufactured by Couplemate Trailer Parts Pty Ltd and is not covered by Couplemate's Life Time Guarantee.