Description
Last updated on September 21st, 2019 at 10:58 am
12 Pin Flat Car Socket with LEDS and Stainless Terminals
12 Pin Flat Car Socket with LEDS for Caravan and Aux Batteries. Led's are located under the cover on the right and the left side of the Pins.
The biggest problem with trailer connections is corrosion. Generally, pin connectors are brass or poor quality brass alloy.
Pins  8 ,9, 10, 11, 12  current rating  35 amp Wire  Size  5 mm
Pins 1,2,3,4,5,6,7 current rating 15 Amps Wire  Size  4 mm
Chrome  Plated  Brass Pins with Stainless Steel Screws
Spring Loaded  Front Cover with a clip to hold open separator to insulate between Trailer Circuits and AUX Battery Circuit
Weather Resistance Rear Cable Entry Seals  with Gripping Device for Holding Cable
Trailer Vision has produced a combination of stainless steel screws with plated brass terminals to help prevent breakage and ensure tight contact between socket and plug.
Pin 8 has a RED LED that indicates breakaway charging circuit.
Pin 5 has a BLUE LED that monitors the breakaway battery circuit
Click here to buy 12 Pin Flat Trailer Plug with LEDs for Caravan and Aux Batteries
Disconnect the trailer plug from the vehicle.
Pull out the pin in the breakaway switch to activate the trailer braking system.
The BLUE flashing LED in the trailer plug must flash to indicate breakaway battery energy source.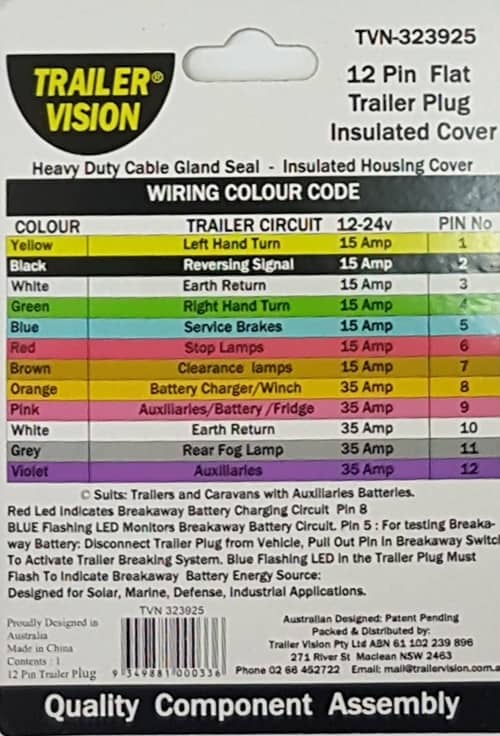 Couplemate Trailer Parts sells only the best quality 12 Pin Car Socket with LEDS and caravan spare parts throughout Australia. Customers are welcome to either pickup or take advantage of our low freight rates. Express shipping to Melbourne, Sydney, Brisbane, Perth, Adelaide, Darwin, and Hobart. We also ship products to New Zealand via Australia Post Air Express.