Description
7.5 Amp Battery Charger is a great choice to service your car, caravan, bike, boat or as a spare battery.
The battery charger is an automatic state of the art battery charger with eight charge states, including pulse and trickle charge modes. It delivers high-performance, intelligent charging – BatteryCharge4 has automatically variable charging amperage up to 7.5 Amps.
Use it with all types of 6 and 12 Volt Lead Acid batteries, such as AGM, Gel, Calcium, or Wet, as well as with LiFePO4 Lithium batteries.
The battery charger has protective circuits to prevent it from sparking and overheating.
Cold start mode is available for charging in the cold weather conditions.
A large LCD display with indicators shows the charge progress of your battery.
The charger may also be used to regenerate completely discharged batteries.
Downloads
Battery Charger Key Features
7.5 Amp | 12V and 24V Battery Charger
Multi-stage charger
Ability to charge multiple battery chemistries
LCD display shows charge progress
Overload and reverse connection protection
Capable of charging battery sizes 12-120Ah
Durable dust- and water-proof casing
Large clamps for easy battery connection
Ring terminals to mount the charger on the battery
Specifications
Output variable up to 7.5 Amps
Input 240V, 50Hz
Size 10-240 Ah
Battery Type Lead Acid, LiFePO4
Battery Chemistry AGM, Gel, Calcium or Wet, LiFePO4
Charger Type Ten-stage – micro digital processor
Power Supply Mode 12V
Other battery chargers available here: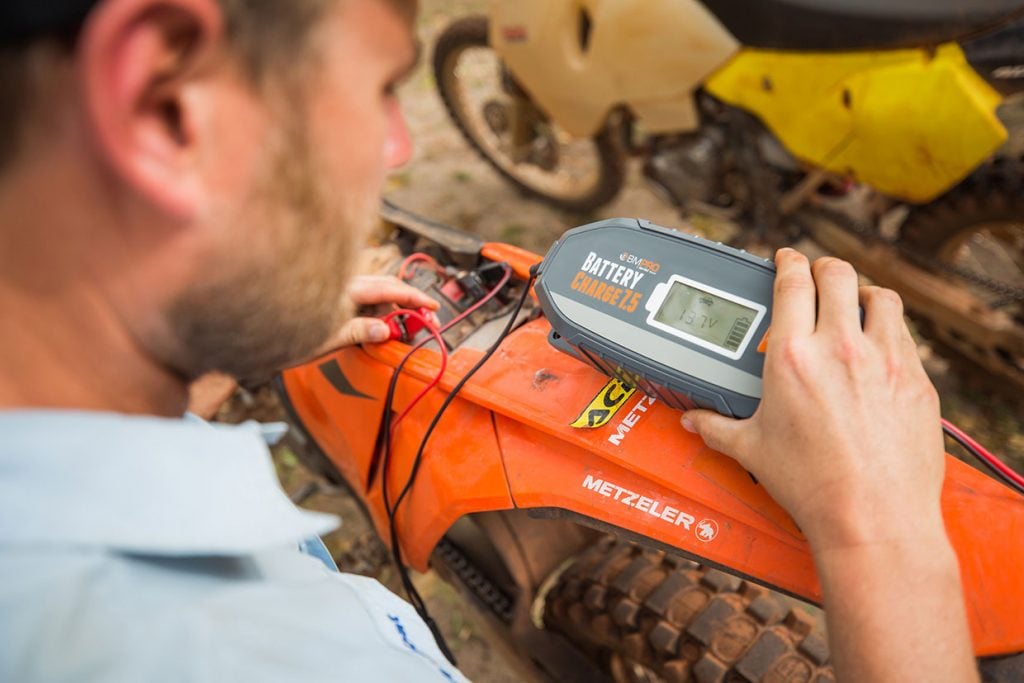 7.5 Amp Battery Charger
Couplemate Trailer Parts sells only the best quality 7.5 Amp Battery Charger BMPRO and caravan spare parts throughout Australia. Customers are welcome to either pickup or take advantage of our low freight rates. Express shipping to Melbourne, Sydney, Brisbane, Perth, Adelaide, Darwin, and Hobart. We also ship products to New Zealand via Australia Post Air Express.