Description
2t – 3t Electric Brake Drum. Suits Al-ko two piece hub drums. Note: Hub supplied separately.
These 12″ drums can wear very quickly on corrugated roads using standard electric magnets. 10″ and 12″ drum wear is significantly reduced when using the Al-ko Offroad electric Magnet.
You may also need to replace the lever arm that holds the magnet in place.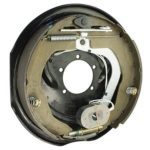 Worn drums can involve not only replacing the drums but replacing the entire backing plate to the offroad model. Click the image on the right to buy off-road backing plates.
Landcruiser PCD 140mm – 6 x 1/2 UNF Studs & Nuts
Landcruiser PCD 150nn – 5 x 9/16 UNF Studs & Nuts
Suit Bearings (not included)
Inner ID 50mm, OD 89.96mm – HR30210
Outer ID 31.75mm, OD 61.95mm – 15123/15245
Seal ID 60.3mm, OD 89.96mm – 64607
Grease Cap OD 63mm – DC2
We do not recommend manually coupling drum and hub.
We use an electric hydraulic ram to insert stud vertically with sufficient pressure to drive them home correctly.
Quite often we find customers complain the holes were poorly drilled because the studs were pressed in on an angle.
Therefore, we recommend having the professional do it.
2t – 3t Electric Brake Drum only