Al-ko Caravan Shock Absorber Kit for Caravans with electric brakes
The Al-ko caravan shock absorber kit is the favourite premium kit used on Jayco, Coromal and most modern caravans in Australia.
Benefits
For a long time, drivers have been worried about trailer vibrations on uneven roads. Until now, conventional standard shock absorbers have barely delivered a noticeable improvement in driving safety. Designed for a weight range that is too large (for example, 0 to 4.0 t). Optimum damping at medium trailer weights is mid-range, about 2.0 t. Damping in the lower weight range is excessive, causing trailer bumps and jolts, while the damping in the upper weight range is inadequate. AL-KO Octagon axle shock absorbers, on the other hand, improve the trailer's drive characteristics and provide optimum damping – thanks to precise, weight-based tuning.
Damping road shocks
Direct reduction of dangerous jolts
Greater driving stability
Greater braking stability
Optimum ground contact
Watch how shock absorbers work on independent suspension. Shock Absorbers are dampening tools and do not remove load from suspension springs.
Install at an angle approximately 15% off the vertical, top to the rear of the trailer
Closed = 255mm Open = 380mm
Bolt size is 12mm
Compression 80% Opening to 20% Closing
Shock absorbers are oil-filled
1600kg per pair
The final operating position for these shock absorbers is 300mm
Bottom brackets can be reversed to gain or reduce the distance
Brackets not included. Click the image to buy shock absorber brackets
How long does a set of Caravan Shock Absorbers last
Electric Brakes
Alko shock absorbers assist braking by substantially removing the effects of vibration fatigue.
Vibration fatigue occurs in caravans and RV's on rough roads. The vibration causes a magnet to rattle on the magnet arm, which damages the electric magnet.
Kit Installation
For the best results, install shock absorbers 90 degree's to your spring travel. In most, this is 15 degrees to vertical.
Install at 15 degrees to the vertical and about 300mm in length or 1/2 open.
Worn parts, parts rubbing together, loose nuts, worn utensils, etc., are all signs of a trailer without a caravan shock absorber.
Why are caravan shockies important for caravans?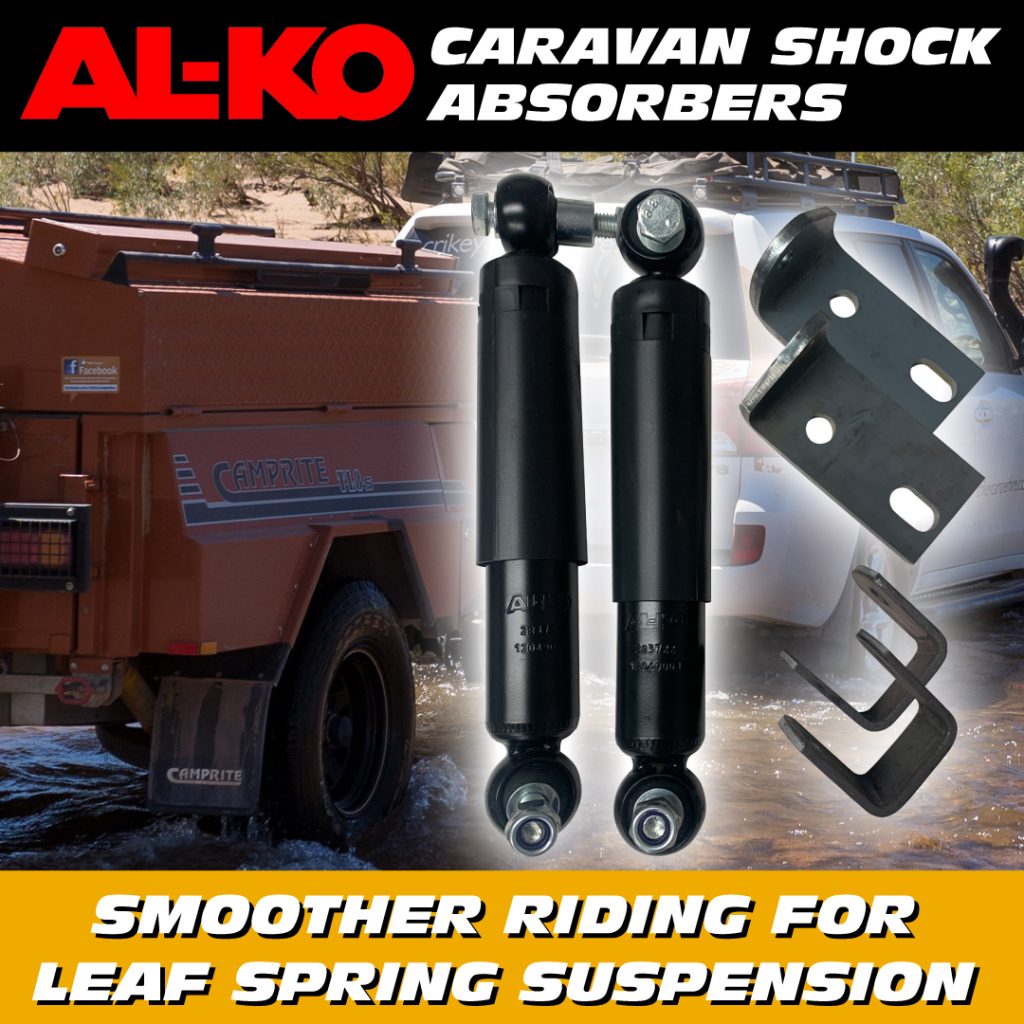 Henry Ford
Do you remember Henry Ford? Ah yes, I thought that name would ring a bell.
Old Henry never put shockies on cars until he got sick of the rough ride. He also needed to sell more cars.
A funny thing happened when Henry put shock absorbers on all his cars. He sold and sold and sold more cars.
Henry sold so many cars that all the world car manufacturers now put shock absorbers on their vehicles.
We reckon your caravan needs them too.
by Stephen Wotherspoon 17/08/2011 Couplemate Trailer Parts