Caravan Reversing Guide | 50mm Ball Couplings
The Couplemate Caravan Reversing Guide (Marriage Saver®) makes hitching up your caravan, boat or camper easier than ever! Reversing cameras are great, but they do not stop accidents as efficiently as this trailer guide.
Couplemate Marriage Saver® is very well-priced, making it the best-selling and most efficient Trailer Guide on the market today. Check out our fantastic prices; you won't buy better!
Product Benefits
A trailer guide helps you align your trailer with your hitch, making it easier to connect and disconnect. It's particularly helpful when you're towing solo, as it saves you the hassle of repeatedly getting in and out of your vehicle to check the alignment.
Avoids vehicle damage.
Can be fitted in minutes.
Saves time on every hookup.
Self-aligns directly over your tow ball..
Ability to hook up your trailer single-handed.
Avoids arguments with your co-driver.
It takes just minutes to install under the tow ball and prevents those awkward 'oh damn' moments!
Product Specifications
The original Couplemate® includes the Guide Wings and Mounting Bracket. The tow ball is not included. 
Material: Steel
Suitable for: The Couplemate® fits most highway electric and non-electric couplings, but not off-road couplings. Particularly, we do not recommend using the CM001 with a Cruisemaster DO35.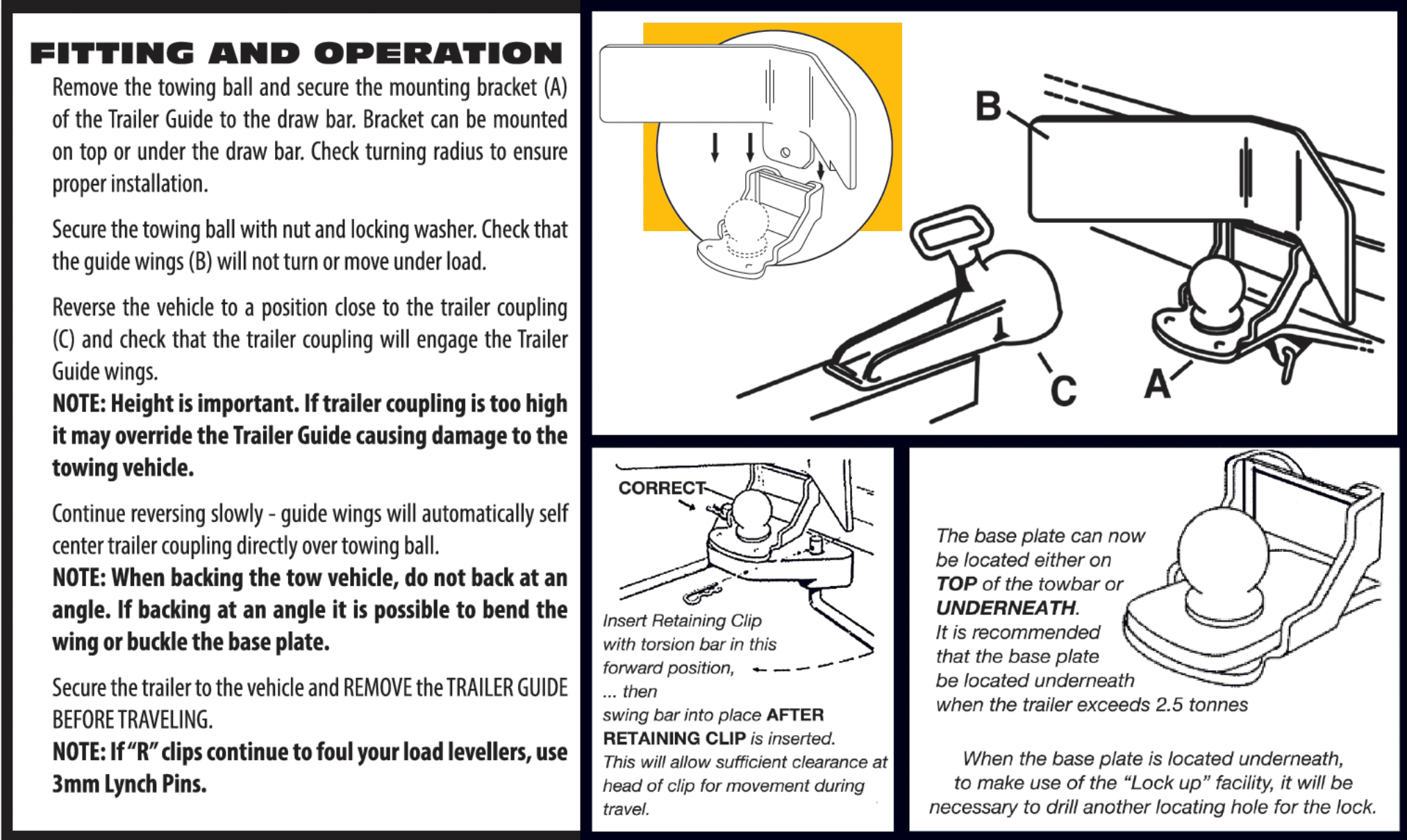 Lock your coupling on the highway
Wings can be locked in the security position whilst towing or when the vehicle and or trailer are left unattended as a very successful theft deterrent.
Likewise, moving over rough ground has been known to cause your trailer coupling to become dislodged from the tow ball. Lock the trailer hitch when travelling to help prevent accidental uncoupling. The Couplemate Trailer guide, when used vertically, helps stop decoupling.
A padlock is required to be purchased to lock the wing into position.
Caravan Reserving Guide Reviews
Chris Lilley: Best investment we made...One of us would have done jail time otherwise.
Tony McKenzie: One of the best things you will ever buy!
Scott Retallick: Saved my marriage on many occasions
Barbara Proposch: Got one, Colleen. They save a bit of swearing
Andrew App: Saves so much stuffing around. Thank you
Hank: My Prado has a reversing camera, not a very good one, though, which I use when hooking up. I also bought a marriage saver from Couplemate, a bit old hat, but it works. It is too easy to reverse back that little bit too much and ding your rear bumper; the Couplemate trailer guide stops that
---
Spare Trailer Guide Parts
Additional information
| | |
| --- | --- |
| Weight | 2.8 kg |
| Dimensions | 35 × 15 × 15 cm |