Description
The Original Couplemate Marriage Saver®
First, reversing cameras are great, but they do not stop accidents as efficiently as this trailer guide.
Hank: My Prado has a reversing camera, not a very good one, though, which I use when hooking up. I also bought a marriage saver (Couplemate), a bit old hat but it works. It is too easy to reverse back that little bit too much and ding your rear bumper, the Couplemate guide stops that.
Chris Lilley: Best investment we made…One of us would have done jail time otherwise.
This is the very first Couplemate trailer guide design and a collector's item. Look at the image top left, yes, that is the one.
The original Couplemate has no locking feature. The locking feature came along in 1999
For those folks who prefer a reversing camera, great item yes but they will not stop the ding in the back of your car if you get distracted.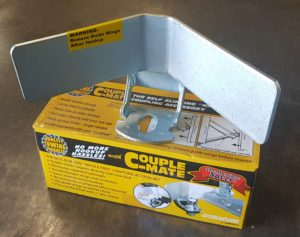 Secondly, the Couplemate® Trailer Guide (Marriage Saver®) makes hitching up your caravan/boat or camper easier than ever! It takes just  SECONDS and prevents those awkward 'oh damn' moments!
Thirdly, reversing cameras are great, but they will not stop you accidentally hitting the caravan coupling. Our reversing guide stops vehicle damage.
NOTE: Fits all highway electric and non-electric couplings. Does not fit offroad couplings.
What is the difference between locking and no locking wing?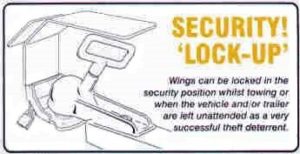 The image on the right is this product. It cannot be locked into the locking vertical position.
Image 2 on the left is the more expensive lockable version.
Some folks like to insert the wing vertically when travelling to get the full benefit of the locking feature. Worn tow balls and couplings make it impossible for the coupling to accidentally become disengaged.
The premium trailer guide is located here.
If you are in Timaru NZ, be sure to drop in on another marriage saver or marriage maker, Dave and Linda Moore. Thank you, Dave, for hosting Debbie and I as we discovered the Southern Highlands in NZ.
Couplemate Trailer Parts sells only the best quality The Original Couplemate – Christmas Sale and caravan spare parts throughout Australia.
Customers are welcome to either pickup or take advantage of our low freight rates. Express shipping to Melbourne, Sydney, Brisbane, Perth, Adelaide, Darwin, and Hobart.
We also ship products to New Zealand via Australia Post Air Express.
© Steve Wotherspoon July 6, 2016. Images and text may be copied, provided a link back to the copied page and the source is displayed where the content or image is located.