Description
Alko Coupling Spare Parts
Alko coupling spare parts include a trigger, spring, roll pin, adjustment screw, coupler head and reversing stop. If your trigger or trigger spring is damaged, the coupler is unusable and needs replacing. However, the replacement trigger allows the coupling to be re-commissioned, thereby extending the life of the coupling.
The hardest working parts of a caravan is the coupling. It hauls the most load, yet they receive little attention. A little grease goes a long way. Almost all parts of the coupling are replaceable.
The trigger locks the coupling down when in use and secures the coupling when not in use. As a result of general wear and tear, trigger plates weaken and eventually break.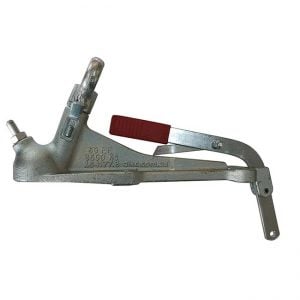 A loose, rattling coupling trigger has annoyed you for a long time. This simple replacement fixes the problem, quickly.
Coupling spare parts are
Coupler complete head
Trigger clip, spring and pin
Reversing Stop
1/2″ Alko head adjuster
12mm head adjuster
Purchase new Alko couplings below if your coupler is past the repair stage.
The Alko trigger does not fit other imported caravan or trailer couplings.
Very simple to replace and cost much less than replacing the whole coupling.
Knock out the old roll pin and fit the new assembly. Easy as that.
A quick inspection inside the coupling, while you are in the neighbourhood, will identify other broken parts that require replacements. Check the adjustment screw is making contact with the tow ball. If loose, give it a simple adjustment.
Couplemate Trailer Parts sells only the best quality Alko Coupling Spare Parts and caravan spare parts throughout Australia.
Customers are welcome to either pickup or take advantage of our low freight rates. Express shipping to Melbourne, Sydney, Brisbane, Perth, Adelaide, Darwin, and Hobart.
We also ship products to New Zealand via Australia Post Air Express.
© Steve Wotherspoon April 9, 2016. Images and text may be copied, provided a link back to the copied page and the source is displayed where the content or image is located.