Description
Al-ko Offroad Coupling Locking Ring is used on 1st release couplings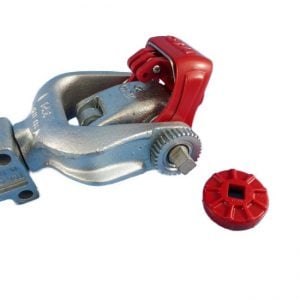 Al-ko offroad coupling locking ring is used to secure the Alko offroad coupling and prevent head spin.
Note: The 1st release Alko offroad coupling is no longer available, however, Alko continue to stock the replacement ring
Note: If the ring is not removed from the offroad coupling before travelling, it will fall off on the highway.
It is best to remove the locking ring and store it in a safe location when driving your rig.
Not removing the lock ring will result in the prevention of the coupling head from articulating vertically and could result in shearing the teeth on the lock ring.
This coupling has been replaced by a later version that does not use this locking ring. Al-ko normally supplies two locking rings with each coupling.
We strongly recommend storing it safely after use. On occasions, it is not easily removed and you may need a tool.
Note: The lugs on the side of the red ring will break as a result of the coupling being incorrectly lowered onto the centre of the tow ball,
Finally, please review the video I have made for this product.
Purchase offroad couplings here:
Couplemate Trailer Parts sells only the best quality Al-ko Offroad Coupling Locking Ring and caravan spare parts throughout Australia.
Customers are welcome to either pickup or take advantage of our low freight rates. Express shipping to Melbourne, Sydney, Brisbane, Perth, Adelaide, Darwin, and Hobart.
We also ship products to New Zealand via Australia Post Air Express.
© Steve Wotherspoon July 13, 2017. Images and text may be copied, provided a link back to the copied page and the source is displayed where the content or image is located.