Shackles and Safety Chains
There can be a lot of misleading information when towing a caravan or trailer safely. One of the key components of safe towing is to ensure safety chains correctly link your van. Couplemate™ discusses some of the critical facts you should know about safety chains on trailers and debunks some of the myths discussed around the campfire about shackles and safety chain connections. Some of the most common questions customers ask about safety chains involve their rating and the ability to extend them.
Below are a few facts and some campfire myths, with references to Australian regulations.
Regulations
Dee or Bow shackles must be compatible with a rated chain. Therefore, the safety chain must have a stamp with a rating. Police or safety inspectors may ask you to prove the Dee-Shackle is compatible with the safety chain. How do you do that? Make sure you refer to the Australian regulations, most of which are linked here. Further, all shackles, hammerlocks, and safety chain ratings should verify with a Certificate of Conformity that should be accessed through the product's manufacturer if required (CI-119C, Page 2, para 3).
As a summary:
Each Chain must ensure that the minimum breaking load exceeds the ATM. (VSB1 Page 27, para 4).
Stamps are on every four safety chain links. (CI-119C, Page 1, para 8).
The Break Load Limit of the shackle must be 1.5 times greater than the ATM. (CI-119C, Page 3).
It is unnecessary to replace a safety chain without a stamp on older trailers. (CI-119C, Page 3).
Legality
We have had a few comments questioning the legality of rated safety shackles being a requirement under the law. Please see more information below:
ADR 62/02
14.3.1.3. For trailers over 3.5 tonnes 'ATM', the chain must be a steel of a minimum 800 MPa breaking stress, conforming to the mechanical properties of Grade T chain. Specified in Australian Standard AS 2321 – 2001 Short Link Chain for Lifting Purposes and must be of a size such that the minimum breaking load exceeds the 'ATM'.
The last six words in this clause require Rated or Stamped Dee Shackles. You must be able to prove your chain complies with your rated ATM.
If you need help selecting the correct size dee shackle – read this link.
Safety Chain Attachments for Aluminium Trailers
The safety chain can be legally attached to an aluminium trailer chassis via Couplemate safety chain holders.
A welded chain holder is a legal requirement. The plate holding the safety chain holder should belt to the chassis rail. Previously, the chain may attach via a bolt passing through the chassis rail and safety chain co-jointly.
FAQ
One of the most common questions is, "Can I legally use a hammerlock or another dee shackle to extend my safety chain?"
You can utilise Hammerlocks to extend the safety chain legally. However, only one Dee Shackle per safety chain is legal.
Another common question is, "What is the difference between a Dee Shackle and a Bow Shackle?"
Dee Shackles and Bow Shackles are very similar in application, and the primary difference is in their shape design, as you can see in the images below. It is acceptable to use rated Bow Shackles in place of a Dee Shackle.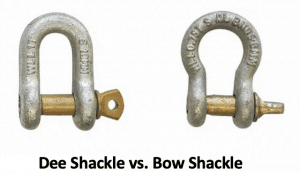 Important: Unstamped Bow Shackles, Dee shackles and Hammerlocks are incompatible with Australian standards.
Truth vs. Myth
You only need one safety chain attachment point for trailers up to 2.5t. You must utilise two chain links for loads over 2.5T.
Fact: This is true
You need a 'coloured pin,' i.e. yellow or red, rated shackle to comply with various state rules.
Myth: Trailer safety chains must rate at or above the ATM of the trailer. The Break Load Limit of the shackle must be 1.5 tonnes greater than the ATM. Shackle colours are not necessary.
Shackles must have a mark or stamp; Dee shackles must rate appropriately to the chain's capacity.
Both: The chain and shackle have a stamp with a rating.
You can weld a chain in any position on the drawbar.
Myth: Drawbar safety chain attachment points should not come into contact with the road surface. While the trailer doesn't have a link or in use.
Rated Dee Shackles can be used on trailers up to 4.5t.
Myth: Dee Shackles or Bow Shackles attach the safety chain to chain holders. Alternatively, ½ of the chain link can weld to the trailer chassis up to 3.5t provided the mounting position does not cause the chain to come in contact with the ground when disconnected or detached. Trailers over 3.5t must use chain holders with Grade 80 safety chains attached.
Key Points for chain attachment.
Up to 2.5t trailers and caravans require a single safety chain with a rating that can connect to a chassis rail by an approved and rated hammerlock or similar device.
2.5t up to 3.5t trailers and caravans must have two safety chains that can be welded or fixed to a chassis rail by an approved and rated hammerlock or similar device.
3.5t to 7.2t safety chains must be Grade 80 and attached to the trailer and towbar using a high tensile 4140 pin.
Important notes:
One safety chain attachment point is required on a trailer up to 2.5t – VSB1.
Two Chains are required on a trailer over 2.5t – VSB1.
Galvanised Chain is illegal over 3.5t.
Require to cross the chain under the tow bar receiver when linking to the tow bar.
The size of each chain must be such that the minimum breaking load exceeds the ATM.
The working load is stamped on the chain or shackle. – VSB1.
The breaking load is the working load x 6.  – WA CI119C.
Drawbar safety chain attachments should not contact the road surface when the trailer is disconnected. – VSB1.
Chains must permanently connect to the trailer, and we do not permit shackles for trailers over 3.5t. QLD AIS 12(a).
Rated Shackles approved as tow bar attachments over 3.5t, provided breaking load 1.5 times ATM – WA CI119C.
Rated Shackles are illegal to be used as attachments on trailers over 3.5t – WA CI119C.
Stainless Steel Shackles are not permitted – WA CI119C.
Safety chain attachment points of the trailer and tow vehicle must be as near as possible to the coupling. QLD AIS 12(a).

Herc-Alloy 800

is the required chain for all trailers over 3.5t. (usually a coloured chain) QLD AIS 12(a).
Safety Chain attachment points – QLD AIS 12(a)
Chain attachment points must be capable of withstanding the following minimum forces without incurring either residual deformation that would interfere with or degrade the function of the assembly or any breaks, cracks or separation of components:
Longitudinal tension and compression (N) 1.5 x 9.81 x ATM (in kg)
Vertical Tension and compression (N) 0.5 x 9.81 x ATM (in kg)
Concerning this, the tow bar attachment point on trailers under 3.5t holds a rating of 1/2 of the rating of the tow bar. As a result of an upgrade over 3.5t, you must also upgrade the attachment point to accommodate the full ATM.
Breakaway systems are a legal requirement for all trailers over 2000kg. Read more information here about important safety switch lanyard alerts.