Why Does Off-Road Driving Destroy Electric Brakes?
It's an unfortunate reality that dirt roads can wreak havoc on electric brakes. Many caravan owners have discovered that the vibrations from corrugated roads can lead to damage to their braking systems.
At Couplemate™, we've received numerous inquiries from customers in need of replacement parts, such as electric drums, magnets, and brake shoes.
In this guide, we'll delve into why dirt roads can destroy electric brakes and how you can best fix the issue.
How It Happens
Dirt roads pose a significant challenge to the longevity of your electric braking system.
One common issue we've observed is the erosion of the steel casting in electric drums caused by the magnetic force. This wear and tear renders the electric magnet ineffective, making replacement a necessity. Additionally, the magnet arm can also suffer damage.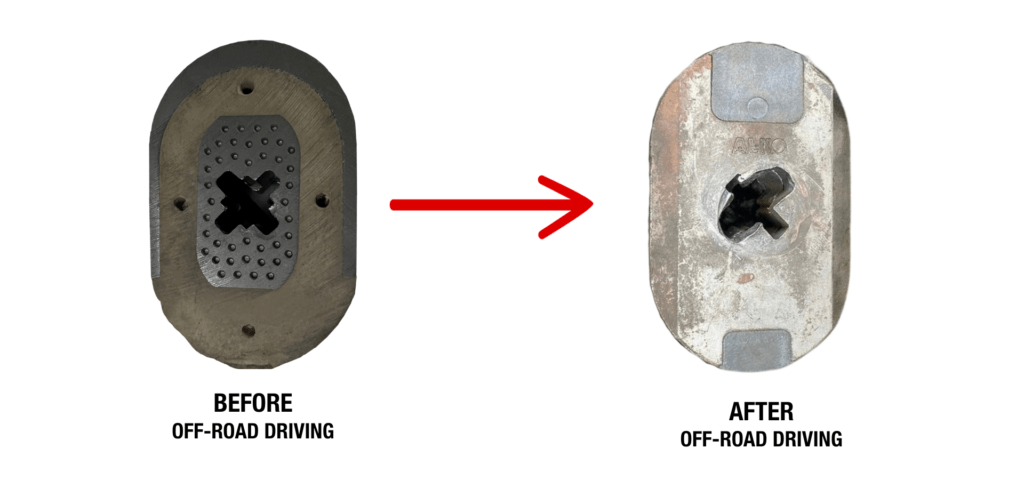 While electric brakes are generally resilient, the image on the right demonstrates the impact of rough roads on magnets. The rattling magnet on the magnet arm has tried to cut the magnet in half, after just two weeks of travel on corrugated roads.
This damage extends beyond the magnet itself, and can affect your brake drums and electric backing plates as well.
How To Fix
Unfortunately, there is no way to effectively repair the electric magnets themselves. Rather, the best way to solve this issue is to replace the magnets entirely.
To withstand the harsh conditions of Australian outback roads, trailer experts recommend investing in high-quality off-road magnets.
There's a whole article that talks about the between the two (which you can read here), but essentially, it comes down to the magnet arm housing. Off-road magnets feature a plastic insert that negates rattle and the cutting action, which increases the magnets lifespan and prevents corrugated surfaces from destroying electric brakes.
There are two ways to approach this issue:
Upgrade the magnets.
Upgrade the entire backing plate.
Many customers have found it wise to invest in new backing plates equipped with off-road magnets for better durability. This ensures a clean slate for your next trip, so you can holiday with peace of mind.
Getting Help with Caravan Electric Brakes
Replacing your electric brake magnets before your trip can save you money, time, and the hassle of dealing with replacement parts while on the road.
Couplemate™ specialises in all things trailers and caravans. Whether you're looking to prepare, or you need help with a breakdown, and our team of experts is available to help.
Give us a call, email us, or leave a comment below.