8-inch Bolt On Jockey Wheel
The 8-inch bolt-on jockey wheel offers your trailer the necessary support to keep it stable when not attached to the tow vehicle.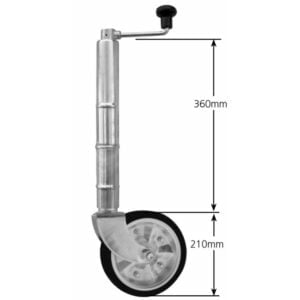 The Bolt-on jockey wheel is suitable for caravans and trailers and is available with or without a bracket.
There are four types of high-quality Jockey Wheels in the 8-inch rubber range
Bolt-on with a Clamp
Bolt-on No Clamp
Extra Height with a Clamp
Extra Height No Clamp
U-Bolt Swivel to suit 3-inch and 4-inch trailer chassis rails.
Choosing the right jockey wheel is critical. It helps in more ways; it helps manoeuvre the caravan, and lower and raise the A-frame drawbar bar when required.
Although most caravans come with a jockey wheel, it's advisable to invest in a good replacement that suits your weight rating better.
If your caravan has a load capacity of 700 kg or below, this is a perfect choice for you. It's easy to use, adjust, remove, and manoeuvre. Made of solid rubber, it comes with a nylon insert and clamp bolts for secure attachment.
We recommend this product for trailers having 4-leaf spring suspensions or smaller.
Note: Wheels are rated for different loads and have two functions
Lift the caravan off the tow ball.
To move the caravan to its location. When moving your trailer, do not forget to lower the stem for maximum efficiency.
Technical Specifications
Wheel diameter - 200mm x 50mm
Weight - 8.2 kg
Static Load Capacity - 700kg
Dimensions - 52 cm x 15 cm x 15 cm
Zinc Coating
Max Height: 570mm
Lift 225mm
Steel Bearings in the Wheel
Solid tyre outer rubber Wheel
We offer a wide range of jockey wheels, each with a different load capacity.
More Jockey Wheels and Parts are available below
Additional information
| | |
| --- | --- |
| Weight | 9 kg |
| Dimensions | 60 × 20 × 20 cm |