2t - 3t Electric Brake Drum to suit 12inch Electric Brakes
2t - 3t Electric Brake Drum only. One component for Al-ko two-piece hub drums.
Note: 2t or 3t Hub supplied separately. 2t Hubs are also available for the RV markets.
How will I know when my 12" drums need replacing?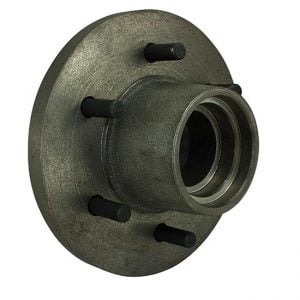 These 12" electric drums can wear very quickly on corrugated roads using standard electric magnets. The Al-ko Offroad electric Magnet will significantly reduce magnet wear.
Replace the drums if there is a visible sign of wear on the magnet face or the brake shoe face.
Magnet faces are generally not machined due to the height of the stud head below the surface. Machining only 2mm could raise the stud head enough to cause a collision with the magnet during rotation.
Assembly
Remove the old studs
Position hub face down on the smaller bearing side
Insert drum over the hub and position to align holes
Position stud into the hole so that the knurl is aligned correctly
Tap stud into the hole to temporarily fix into position
Inert hub and drum into a hydraulic press and drive studs home (min 15t of hydraulic pressure)
Ask our engineers when purchasing both the hub and drum. There is no charge for this service.
Alternatively, call us and purchase a wide range of  trailer and caravan spare parts over the phone,
Worn drums can involve not only replacing the drums but replacing the entire backing plate to the offroad model.
Landcruiser PCD 140mm – 6 x 1/2 UNF Studs & Nuts
Landcruiser PCD 150nn – 5 x 9/16 UNF Studs & Nuts
We do not recommend manually coupling the drum and hub with a hammer and punch.
Finally, contact our sales team on 0733483822 for more information on trailer parts for campers and caravans.
Additional information
| | |
| --- | --- |
| Weight | 19 kg |
| Dimensions | 40 × 40 × 15 cm |
| Stud Pattern | Land Cruiser 6S, Land Cruiser 5S |