Description
10-inch Premium Electric Brake Assembly incl Park | Maximum rating 1600kg | Highway Magnets | Off-road Magnets | Dexter Magnets.
This electric backing plate can be used on slimline and parallel 10″ drums. Couplemate also sells an extensive range of electric drum brake parts.
Magnets for these backing plates.
Standard Highway Magnets
Off-Road Magnets.
Four types of electric backing plates
Al-ko Standard | non-genuine
Al-ko Offroad | non-genuine
Dexter Standard | non-genuine
Dexter Offroad | non-genuine
It might surprise you to find out that not all 10-inch electric brake backing plates are the same. 
Poor quality backing plates generate excess heat, as a result, they cause overheated bearings and grease.
News Articles
Features
A quality 10-inch electric backing plate
Suit highway or off-road 1450kg or 1600kg caravans
Long haul braking.
The right side is the driver's side.
Install park brake to the top.
Driver side is the right-hand side. If the parking brake is installed on the bottom, the brakes will be permanently engaged in a forward motion.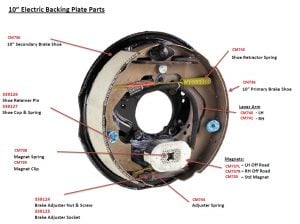 Electric brake shoes are not self-aligning. When installing new brake shoes, adjust the brake shoes until they are closed, and the wheel is locked to prevent turning. The factory setting is 13 turns from fully closed, but you may need more or less when replacing new shoes.
Use 4mm trailer cable on the parking brake. Do not wire electric brakes across the axle. Rundown each chassis rail separately to reduce voltage losses.
Why can't I run the electric cable across my axle?
Click this link to check the correct cable size for your installation
Rundown each chassis rail = 6mtr @ 6.4 Amps per pair of magnets = 5.62mm cable size
Run down the chassis trailer (inside) = 6 meter + 2 meter (8mtr) @ 6.4 Amps per pair of magnets = 7.5mm cable size
To escape voltage drop, run your cabling down the chassis rail.
Cable sizes can be confusing because there are two standards used.
Electric Cable is 6mm per square inch of copper.
Automotive Cable size is 10mm per circumference
So we careful not to purchase undersized cable else you will suffer voltage drop.
Most brake controllers have proportional control, as a result, NO voltage will be applied to the brakes. Your caravan must be in motion for your electric brake controller to work.
Apply a voltage to your brakes by pulling the pin on your breakaway kit. You are also testing the contacts within the housing, in this exercise.
Pull the pin on your breakaway kit and your electric brakes activate.
It will be impossible to spin your wheel when it is off the ground if your brakes are ON and adjusted correctly. It should also be impossible to move your caravan forward without your wheels skidding.
Large range of parts and accessories available for this product. If your brakes are pretty old, consider replacing the entire backing plates. Backing plates are very easy to uninstall.
Further, the shoes on electric brakes are not self-centring.
With the parking brake facing at 12 o'clock ensure the shoes are parallel with two outcrops on the backing plate located at 3 and 9 o'clock.
Tap the shoes into position until they are perfect.
Finally, use 4 x 7/16″ UNF nuts to bolt the backing plate to the weld ring.
10-inch Premium Electric Brake Assembly incl Park
Couplemate Trailer Parts sells only the best quality 10-inch Electric Backing Plate Brake Kit and caravan spare parts throughout Australia. Customers are welcome to either pickup or take advantage of our low freight rates. Express shipping to Melbourne, Sydney, Brisbane, Perth, Adelaide, Darwin, and Hobart. We also ship products to New Zealand via Australia Post Air Express.