Description
The Bluetooth Hubodometer is a precision tool to ensure an accurate logbook for trailer or caravan maintenance.
The battery life is between 4 years and 7 years. Sleep mode engaged at zero motion.
Please check the hole size in the wheel. The outside diameter of the hubodometer is 95mm.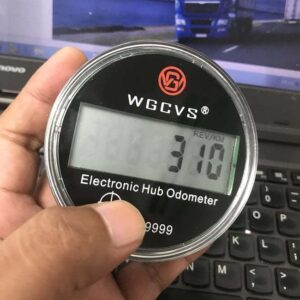 This hubodometer fits into your own housing.
Special Note: a Bluetooth hubodometer measures the circumference of new tyre size. Worn and older tyres will vary a little to the actual distance covered.
Select your tyre size for configuration.
How to Program your Bluetooth hubodometer
An app is required to program your Bluetooth Hubodometer. WGCVS Hub Odometer from your app store (MaDao).
Program the hubodometer revolutions per kilometer for the tyre size available from the above links.
The how to program the hubodometer sheet is available for download and printing by clicking this – link.
The app allows you to set and reset your hubodometer. It does not record kilometres.
Fixing
ON the back of the hubodometer is a 1/2″ UNF Stud and nut.
Log Book
A good start for your logbook caravan servicing would be
500 km after taking delivery.
5000 km highway or 1000kg offroad.
Bluetooth hubodometers installed on caravans, and other rigs trigger a service level for manufacturers. Warranty issues are easier to understand when accurate kilometre reads are available.
The manufacturer's checklist will incorporate some of the items below. However, this same list is a good start for the DIY brigade, with older rigs.
Checks
Check Chassis for cracks.
Bearing check.
Tyres wear check.
Electric brakes and/or disc pads check.
U-Bolt check.
Shackle bolts, bushes and shackle plates check.
Gas lines.
Coupling tightness.
Wheel nuts for tightness.
Did you know
Car tyres are tuned to your car speedo when new. Tyres have a specific circumference for each tyre.
Tyre wear as little as 10mm will drastically lower the actual speed, and the distance you have travelled, however, your gearbox rotations governs the speedo.
An example is, if you are driving at 105 kilometres per hour, your actual speed will be 100 kilometres per hour on used tyres.
To confirm your actual speed, we recommend using the GPS in your mobile phone for a more accurate reading.
Probably a good explanation of why Police have let me go after my speedo said 105 kph. The speedo is often wrong unless the car tyres are new.
AUSTRALIAN PROVISIONAL PATENT 2017904069
Bluetooth Hubodometer for Caravans, RVs, Horsefloats and Trailers
Couplemate Trailer Parts sells only the best quality Bluetooth Hubodometer Only and caravan spare parts throughout Australia. Customers are welcome to either pickup or take advantage of our low freight rates. Express shipping to Melbourne, Sydney, Brisbane, Perth, Adelaide, Darwin, and Hobart. We also ship products to New Zealand via Australia Post Air Express.