Description
Last updated on January 13th, 2020 at 10:25 pm
Stainless Braided Hydraulic Hose Kit | Huge Range In Stock
Stainless braided hydraulic hose kit. Build your own stainless braided hydraulic line Kit by selecting the right size and adding it to the shopping cart.
However, before you start, it is a good idea to do a drawing and get your measurements perfect.
Now you are ready to add your stainless steel braided hydraulic line to the shopping cart. Repeat the process until your cart is full of braided line.
Then select your brass fitting and maybe your Hydrastar® or Al-ko® IQ7.
The image on the right is what your stainless braided hydraulic kit should look like after it is all added to the shopping cart.
Customers have been asking us for different length braided line, so the tandem kit was not practical.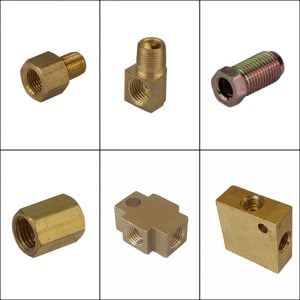 Yes, we did listen to you, and now I can present this auto-build kit, so you get the exact size for your hydraulic line installation.
SAE compliance standards must be stamped on the hydraulic hose.
Adaptors and Brass Tees
After selecting your stainless braided line, add the adapters and stainless braided line to your shopping cart until your takeoff sheet is all ticked and item are ready for purchase.
Adaptors and Tees are located on this page, click here.
The next big decision is how fast do you want your gear. You can select from Express Services to eParcel.
Click this link for 17″ for Short Rubber male /male or female/male connectors.
Couplemate Trailer Parts sells only the best quality Stainless Braided Hydraulic Hose Kit and caravan spare parts throughout Australia. Customers are welcome to either pickup or take advantage of our low freight rates. Express shipping to Melbourne, Sydney, Brisbane, Perth, Adelaide, Darwin, and Hobart. We also ship products to New Zealand via Australia Post Air Express.