Description
Timbren Single Axle-Less Suspension
Timbren single axle-less trailing arm suspension challenges everything you know about trailer suspensions. The axle-less suspension is designed for any terrain, whether it be highway driving or the middle of nowhere.
Timbren Suspension is beautifully made in Canada. Initially, we thought the images were photoshopped; however, upon delivery of the first suspension, what you see is what you get. In a word, impressive and we don't often use that word.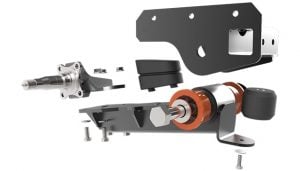 Couplemate have the best experts and engineers to help you get the right equipment for a perfect fit, the first time. Also, enquire about the galvanised suspension for boat trailers.
Ordinary solutions usually solve everyday problems. But when the issue is anything-but-ordinary, unusual solutions are required. Watch how the extraordinary Axle-Less suspension can solve off-road problems.
Features
Lifetime Warranty
Improves Ride Handling
Replaceable and upgradeable sub axles
Eliminates Trailer Sway Roll
Easy Bolt-On Pop-In Installation
Maintenance Free
Silent ride
Short Suspension travel
Satisfaction Guarantee
Axle Stub Length Selection
Selecting the axle stub length is difficult for most people. The stub length varies according to the rim and tyre backspace. There are two-axle length selections; they are regular and long/wide. Contact the experts at Couplemate to help you with selecting the correct stub axle length to suit your axle upgrade.
More Videos
Forget about the traditional bouncing empty trailers. Progressive rubber springs and premium urethane bushings create a suspension that rides quiet and smooth whether it's loaded or empty.
Steel Brackets
The steel brackets are laser cut coating with a durable, long-lasting powder coat finish to ensure protection and long life.
Bushings
Premium urethane bushings are installed in Timbren Axle-Less suspension. Pivot points are machined with small grooves allowing grease to lubricate all points. The urethane bushing ensures added quietness of the suspension. As a result, you don't have to listen to your trailer squeaking when towing.
Rebound Spring
Rebound springs play an essential role in the operation of the suspension. They create constant tension on the jounce spring when the trailer is empty. A full or empty the Timbren trailer has a smooth ride and will never bounce around like a typical trailer suspension.
Axless-less kit prices include left and right-hand suspension arms.
Note: Hubs and drums are optional depending upon configuration—more information from Timbren Australia.
Purchase conversion kits here
Our team of experts are here to serve you, so give them a call or send them an enquiry here.
Reviews
"The Axle-Less trailer suspension system is one of the most popular options we offer with our off-road camping trailers. The robust construction and flexible configurations allow us to dial in the setup to match the type of terrain our trailers explore exactly." – Matt Broadbent, Kakadu Camping Inc. "On the trail, Timbren's Axle-Less suspension provides enough ground clearance and stability to follow the tow vehicle anywhere. The suspension keeps the trailer's deck, and work surfaces nice and low for in-camp convenience." – Chazz Layne, Expedition Portal
Couplemate Trailer Parts sells only the best quality Timbren Single Axle-Less Suspension and caravan spare parts throughout Australia.
Customers are welcome to either pickup or take advantage of our low freight rates. Express shipping to Melbourne, Sydney, Brisbane, Perth, Adelaide, Darwin, and Hobart.
We also ship products to New Zealand via Australia Post Air Express.
© Steve Wotherspoon January 12, 2020. Images and text may be copied, provided a link back to the copied page and the source is displayed where the content or image is located.