Description
Drop Leg Jack Stand
Drop leg jack stand with a 1500kg static capacity with a side wind fixed handle or a loose handle from Manutec.
Buy online at Couplemate Trailer Parts Superstore. Purchase a longer camper leg that is used on camper trailers in preference to the 1.4-metre drop leg here.
The major advantages of this drop leg are the variety of uses this camper leg provides. Completely closed length is 600mm in comparison to 1090mm fully closed for the larger model.
When bolted to the trailer chassis the drop leg make it easy to remove and secure a trailer, excavator or digger from a truck.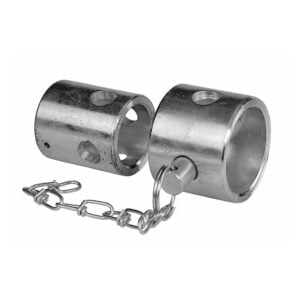 Brackets for this drop leg stand are the round AS-MT and the swivel bracket. Weld brackets below the geared section at a suitable height according to your camper.
Round welded brackets allow the legs to be removed and stored when not in use.
Specifications
Base: Curved Plate
No Bracket
Closed Height: 600mm
Coating: Zinc
Lift: 350mm D/Leg
Static Load Capacity 1500kg
Purchase replacement loose handles here
Finally, drop leg jacks are also used on heavy duty trailers to disengage or jack the trailer coupling from the towbar. Another use for drop jacks is to provide stabilisation on all four corners of the trailer.
Couplemate Trailer Parts sells only the best quality Drop Leg Jack Stand – 1500kg and caravan spare parts throughout Australia.
Customers are welcome to either pickup or take advantage of our low freight rates. Express shipping to Melbourne, Sydney, Brisbane, Perth, Adelaide, Darwin, and Hobart.
We also ship products to New Zealand via Australia Post Air Express.
© Steve Wotherspoon September 30, 2014. Images and text may be copied, provided a link back to the copied page and the source is displayed where the content or image is located.