Description
125mm Square ElectroGal® U-Bolts
125mm square ElectroGal® U-Bolt secure jockey wheels to your 5″ caravan chassis or boat trailer chassis.
How can you ensure high-quality u-bolts?
Bending steel can be accomplished either through using heat or through using manual force. Making a U-bolt out of a threaded-steel rod is a project that can be done through manual force by most people of average strength.
Steel wire is cut, threaded, bent and plated in the process of manufacture; as a result, they suffer hydrogen embrittlement. The solution to hydrogen embrittlement is baking the product in an oven for several hours then slowly bring the oven temperature down.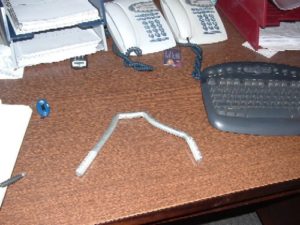 U-bolts are removed from the oven to cool over slowly to finally reach ambient temperature.
This process removes embrittlement stresses from steel and as a consequence, returns the metal to its standard load-carrying capacity.
U-bolts are checked, tested and rated to breaking capacity in a static test after plating or galvanising.
Further, soft u-bolts are easily be bent or broken by hand will fail stress tests if not processed correctly.
In our opinion, stretched and unchecked u-bolts constitute a significant cause of road accidents.
Should u-bolts be reused?
U-bolt reuse is a tough question that was posed to me not long ago and deserved a good answer for such a good question.
After a great deal of thought, the answer is no, u-bolts should be replaced and not reused more than once.
U-bolts have rolled threads as opposed to cut threads. Rolled threads are stretched during the initial tightening and then re-stretched when re-tensioned.
Here is a video about how to create a rolled thread.
As a result of the second re-tensioning, the u-bolt reached its final torqued position.
In conclusion, the logical answer is no. Re-inserting old u-bolts onto a new axle will lead to disaster.
Trailer Spare Parts News Articles
Galvanised Square U-bolt clamp kits
Couplemate Trailer Parts sells only the best quality 125mm Square ElectroGal® U-Bolt and caravan spare parts throughout Australia.
Customers are welcome to either pickup or take advantage of our low freight rates. Express shipping to Melbourne, Sydney, Brisbane, Perth, Adelaide, Darwin, and Hobart.
We also ship products to New Zealand via Australia Post Air Express.
© Steve Wotherspoon February 24, 2020. Images and text may be copied, provided a link back to the copied page and the source is displayed where the content or image is located.