Description
Al-ko® Jockey Wheel Manoeuvring Handle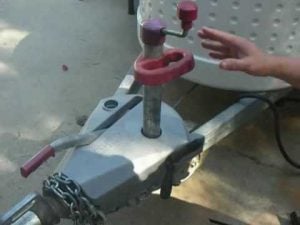 Al-ko® manoeuvring handle suits all 48mm OD jockey wheels.
The two-piece Al-ko® jockey wheel handles grip screws together, clamping snugly to all 48mm diameter jockey wheels.
This handle is essentially a European design that is picking up popularity ion Australia.
Couplemate recommends lowering the jockey wheel before re-positioning the caravan or camper. The higher position acts as a fulcrum and tends to bend the stem.
Lower manoeuvring handle positions are more successful, however, if your rig is set up with a stem stabiliser like the image above then the fulcrum effect is negated.
Personally, I would love to install a manoeuvring handle on my 60mm auto retract. Sadly, the stem OD is too large.
Ideal: the perfect complement to the jockey wheel
Uncoupled trailers are more comfortable to move using the Al-ko® handle. Furthermore, this handle also prevents loss of the jockey wheel when towing in case of a loose locking bar.
The maneuvering handle fits all Manutec, Ark and Alko® jockey wheels with an outer tube diameter of 48 mm. Measure the width of your jockey wheel before ordering.
Features
Prevents the jockey wheel slipping while driving and secures against loss
Simple fitting on the outer tube of the jockey wheel with four screws
Purchase replacement jockey wheels here
Couplemate Trailer Parts sells only the best quality Al-ko® Jockey Wheel Manoeuvring Handle and caravan spare parts throughout Australia.
Customers are welcome to either pickup or take advantage of our low freight rates. Express shipping to Melbourne, Sydney, Brisbane, Perth, Adelaide, Darwin, and Hobart.
We also ship products to New Zealand via Australia Post Air Express.
© Steve Wotherspoon November 26, 2019. Images and text may be copied, provided a link back to the copied page and the source is displayed where the content or image is located.