Description
Last updated on January 27th, 2020 at 06:13 pm
Ark® XO Extreme Off-road Series Jockey Wheel
Until now, no jockey wheel has genuinely been able to claim offroad supremacy.
As a result of this vacuum, Ark® Engineering researched, designed and manufactured a better offroad jack accessory.
Outstanding video demonstration of one of the best camper demonstrations in Australia. (sand) (latest)
Fully retracted and highly maneuverable to achieve maximum loading. Watch the video. (mud)
To put it more simply, not only is the Ark® xo offroad tough, but it's also versatile – with multiple height options.
Eventually, other manufacturers will produce a similar product for caravan camper trailers, but for now, ARK® has the best XO jockey wheel by a large margin.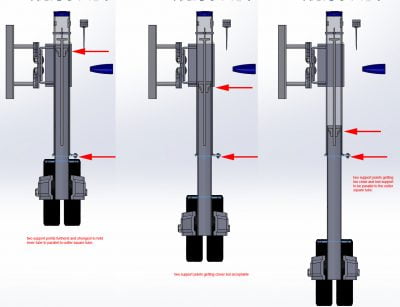 4 x adjustable height positions
250mm height adjustability at each of the four locations, while maintaining a central swivel point for extra strength
Heavy-duty swivel clamp
Four-bolt pivot point ensures no more bowing underweight.
Suitable for 75mm, 100mm, 130mm and 150mm drawbars.
Pivot trailing yoke design
Comes with mounting hardware – no more welding onto drawbars
Stowed safety to allow for clearance.
Yoke Locking Position to lock the yoke.
Clearance for stone guards.
Increases offroad grip and spreads the load.
Dual wheel with sealed bearings & offroad tread
Finally, the Alko auto retractable jockey is galvanised and suitable for boat trailers.
ARK® XO 750 Off-road Series Extreme Jockey Wheel (ORJW750) | Video
Couplemate Trailer Parts sells only the best quality ARK® XO Off Road Series Extreme Jockey Wheel and caravan spare parts throughout Australia. Customers are welcome to either pickup or take advantage of our low freight rates. Express shipping to Melbourne, Sydney, Brisbane, Perth, Adelaide, Darwin, and Hobart. We also ship products to New Zealand via Australia Post Air Express.