Description
Twin Jockey Wheel Bolt-On
Twin Jockey Wheel Bolt-On selection includes 250mm Solid Wheels.  An excellent jockey wheel for moving those heavier trailers.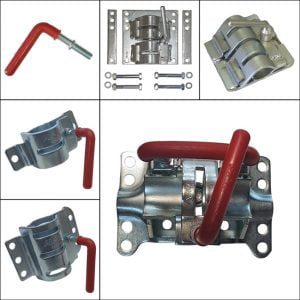 A Solid tyre is an excellent all-round wheel used for a wide variety of surfaces.
Purchase heavy duty and swivel wheel clamps here.
Specifications
Wheel: Twin 4.10/3.50 x 4 (10″)
Solid Rubber with steel centre and bearings.
Lift: 225mm
Weight: 9.9kg
Total Height: 630mm
Static Load Capacity 500 kg to 1000 kg
Including heavy duty clamp
Max Air pressure on pneumatic tyres is 30psi
A jockey wheel is a necessary trailer attachment. It is usually attached to the tow bar or near the centre of gravity of single-axle and close-coupled trailers.
This device gives you the ease of movement in all directions. Additionally, it has low maintenance, ease of movement, and convenience of utility. Subsequently, it is a popular choice for trailer users and caravanners alike.
The clamp helps make your life easier because it lets you bolt the jockey wheel to the trailer's frame. With dimensions of 4.10/3.50 x 4 (10″), it is an apt choice for most campers.
You can find several similar products on Couplemate's collection of clamp-on jockey wheels. You can also check out the essential accessories that go with the product, such as the 500 mm Caravan Corner Steady Slotted Head.
Couplemate Trailer Parts sells only the best quality Twin Jockey Wheel Bolt-On and caravan spare parts throughout Australia.
Customers are welcome to either pickup or take advantage of our low freight rates. Express shipping to Melbourne, Sydney, Brisbane, Perth, Adelaide, Darwin, and Hobart.
We also ship products to New Zealand via Australia Post Air Express.
© Steve Wotherspoon September 24, 2014. Images and text may be copied, provided a link back to the copied page and the source is displayed where the content or image is located.