Description
Hydraulic Master Cylinder Bracket – Zinc
Hydraulic master cylinder bracket fits 7/8 inch, 3/4 inch and 1-inch hydraulic master cylinders.
This zinc bracket is also a parking brake for hydraulic braking systems.
Fit the master cylinder bracket on the rear bolt mounts
Bolt hole mounts are 54mm between centres
Select 1/2 inch bolts that bolt right through your bracket, coupling and drawbar
Disconnect the parking brake
Adjust the lower nut 2mm from the back of the override then lock it off.
Further, we have more information from our engineer
you must have at least 2mm free play, between 2mm and 5mm when the hydraulic brake pads start to wear
if there is no free play, as soon as the brakes start to work and get a little warm, you will start to get brake build-up, increasing heat and burning out your brakes or even popping the seals in the master cylinder
Also suitable for use with Hydrastar brake controllers. Use as park brake only with the correct master cylinder.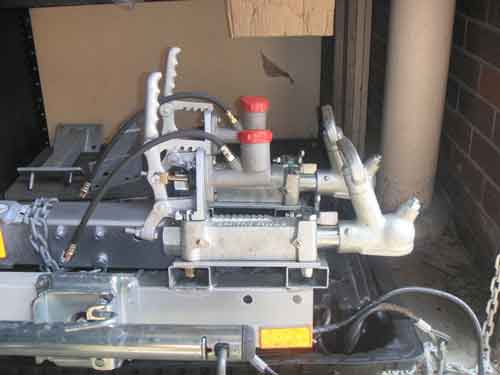 Also known as 610943 when used in conjunction with a master cylinder.
Purchase Master Cylinders here
Couplemate Trailer Parts sells only the best quality Hydraulic Master Cylinder Bracket and caravan spare parts throughout Australia.
Customers are welcome to either pickup or take advantage of our low freight rates. Express shipping to Melbourne, Sydney, Brisbane, Perth, Adelaide, Darwin, and Hobart.
We also ship products to New Zealand via Australia Post Air Express.
© Steve Wotherspoon May 10, 2014. Images and text may be copied, provided a link back to the copied page and the source is displayed where the content or image is located.