Description
Coupling Base Park Plate (Trigg Bros.)
Coupling base park plate by Trigg Bros is essential to used on swivel ring couplings to limit rotation.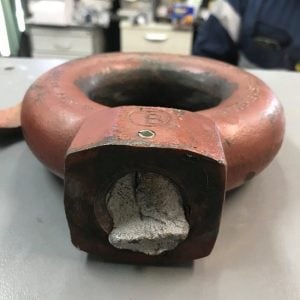 Limited rotation helps prevent severe damage to ring couplings. The elongated end on the parking brake prohibits over-rotation.
The bottom base seals override couplings preventing grease escaping.
Drivers should also be aware of the opportunity jackknife reversing on an extreme angle. occasionally over gutters..
Quite often the driver will be unaware of a jackknife event is occurring at very low speeds. Gutters give a driver a false indication of resistance when reversing however, resistance also occurs during a jackknife.
Stress Fractures
Small stress fractures from jackknife events occur over a period of time.
Rust, as well as fresh steel, can usually be observed in broken castings. The rust portion of the break occurred in the past whereas the fresh break is a recent event.
Driver education plays a big role in providing solutions for transport companies. Couplemate is more than happy to provide engineering advice that helps to ensure a safe working environment.
The following brake plates are used with pintle rings
Couplemate Trailer Parts sells only the best quality Coupling Base Park Plate (Trigg Bros.) and caravan spare parts throughout Australia.
Customers are welcome to either pickup or take advantage of our low freight rates. Express shipping to Melbourne, Sydney, Brisbane, Perth, Adelaide, Darwin, and Hobart.
We also ship products to New Zealand via Australia Post Air Express.
© Steve Wotherspoon November 5, 2019. Images and text may be copied, provided a link back to the copied page and the source is displayed where the content or image is located.