Description
Caravan Emergency Repair Kit
The Couplemate Caravan Emergency Repair Kit is designed not only to get yourself out of trouble if the unexpected occurs but also to prepare yourself with a range of gear to stop and help someone else in need.
As an Australian born and bred, I have spent many years travelling our country in a caravan. Over time, and often learning the hard way, it has become my practice to always carry a range of spare parts – including parts I do not necessarily need for my model van.
Quite often, sitting around the campfire we talk with other caravanners about the day events and perhaps misadventures.
"I have a few broken wheel studs from rough, corrugate roads and I am limping into Charleville to get spares."
The odd broken wheel stud is more common than you think so we included studs in our Emergency Kit.
Please note: Caravan Emergency Kits are pre-packaged so we cannot add or subtract desired parts. The bag has additional space capacity to incorporate any extra parts you wish to carry on the road.
Trailer spare parts can be heavy, however, our product selection limits the Caravan Emergency Kit weight to only 13kg.
Free Gift
To say thank you to those supporting our business, the Caravan Emergency Kit includes a FREE Original Couplemate Marriage Saver Reversing Guide. This device is designed to stop accidents from occurring when attaching your towing vehicle. Suitable for all highway electric and non-electric couplings – not suitable for off-road couplings.
Specifications – Caravan Emergency Repair Kit:
Axle Jack

When your caravan requires an unexpected repair, the first step is to find a safe location to conduct the work and be able to access the axle if required. Rated up to 1000kg per wheel and made from durable Case Aluminum, this product suits 14" – 16" wheels, with a maximum axle height of 340mm.
Wheel Chock
Ensure your caravan is stabilised before conducting any repairs with a rubber wheel chock. The front and rear surface of the chock are corrugated to assist with stabilisation and help prevent slippage.
Grease
A 100g tube of Penrite Power Sports Grease is included to ensure your replacement parts can be installed easily and correctly. This grease is highly water and temperature resistant, providing protection against rust and corrosion. This product is ideal for use in marine environments and extreme off-road conditions.
Japanese Bearings
Chinese bearings are a constant cause of failure on the highway, hence why we stock and supply only trusted NSK Japanese bearings. The majority of standard Australian bearing configurations will align with one of the following numbers included in this kit, so you can swap your bearing out immediately (LM67048, LM11949, LM12749, LM68149 x 2, 30210J and 15123).
Seals
This Emergency Kit includes the three most common caravan seal variants, suitable for axles profiled with LM, SL, 2T (AL-KO) & 3T configurations. When replacing a seal, ensure the seal fits perfectly onto the axle seal journal before proceeding. Grease the seal ID before installation onto the axle, and insert the stainless steel ring into the hub ensuring it sits hard against the outside boss of the wheel hub. Insert the rubber seal over the axle journal and install the hub and bearings over the rubber seal.
Shackle Bolts and Plates
The kit includes three variations of high tensile shackle bolts; both 1/2" and 5/8" greaseable, and a 9/16" solid. These suit various 45mm and 60mm spring assemblies. The kit also includes sets of the 9/16" and 5/8" shackle plates (75mm centres), which connect the caravan spring to a dumb jack welded onto your chassis rail.
Split Pins and Dust Caps

Axle split pins are an essential part of the axle assembly, without which, the entire hub assembly and wheel can detach. To prevent future loss of split pins, bend half of the split pin forward across the end of the axle (the other half or shorter half should be bend back towards the bearing). Included in the kit is two small and two large split pins. Dust caps can also become loose if hammered in too frequently. The kit contains a standard 45.2mm dust cap as well as a larger dust cap to suit a 2T bearing configuration.
Wheel Studs and Nuts
Majority of modern caravans on the market will be running ford wheel studs and nuts. The Emergency Kit includes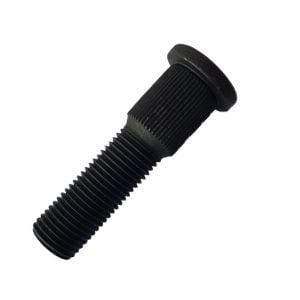 1/2" x 5 UNF Ford standard wheel studs
1/2" x 5 UNF Ford Wheel Nuts
7/16" x 5 UNF Holden wheel nuts.
Wheel Nut Indicators
Wheel nut indicators are essential caravanning equipment, as they provide a clear indication of loose wheel nuts.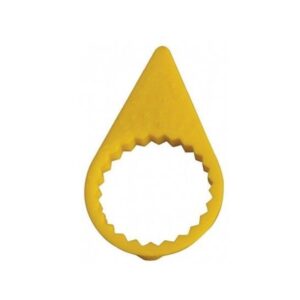 Driving caravans and campers over rough roads mandate maintenance checks every morning before the day's adventures commence. Install these wheel nut indicators to assure you can easily identify loosened nuts. Insert the tabs over each wheel nut, ensuring the pointed tab is touching the right-hand side against the hub.
A loosened nut will move the tab in an anti-clockwise direction. From here you can re-tighten the wheel nut, and reset the tab in the correct position.
Towing Strap and Bow Shackle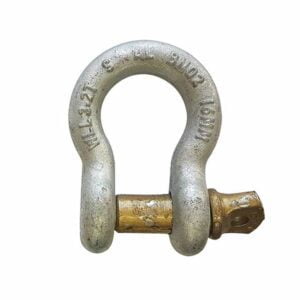 An Australian Made 'Just Straps' Heavy Duty Towing Strap is included, designed for general towing of heavy Four Wheel Drive vehicles only. 60mm wide x 6 meters long, with 4100kg Recovery Load Limit and 6150kg Minimum Braking Strength.
Connect the Towing Strap to a fixed point with a 3.2t rated bow shackle.
Safety Warning: Use of this product and participation involves inherent risks of injury or death, exercise extreme caution.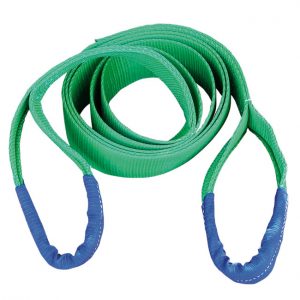 Below is a comprehensive list of kit parts included:
Penrite Grease Tube PSGR000 x 1
Towing Strap TS606H x 1
Split Pin 701019 x 2
Split Pin 701018 x 2

Marriage Saver Reversing Guide CM001US x 1
Caravan Emergency Kit
Couplemate Trailer Parts sells only the best quality Caravan Emergency Repair Kit and caravan spare parts throughout Australia.
Customers are welcome to either pickup or take advantage of our low freight rates. Express shipping to Melbourne, Sydney, Brisbane, Perth, Adelaide, Darwin, and Hobart.
We also ship products to New Zealand via Australia Post Air Express.
© Steve Wotherspoon November 25, 2020. Images and text may be copied, provided a link back to the copied page and the source is displayed where the content or image is located.