Description
Spacer Plate to suit Ratchet Hand Brakes
Spacer plate to suit all types of ratchet hand brake or park brake.
Install this spacer plate under the front of the coupling after installing the parking brake at the rear of the override coupling.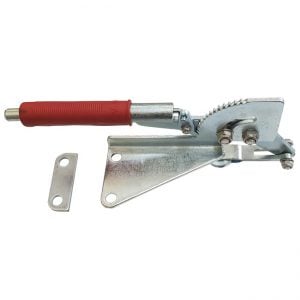 Purchase ratchet handbrakes or park brakes here: Push Button Park Brake
Install the ratchet park brake under the rear of the coupling using 2 x 1/2″ bolts.
This causes the coupling to be tilted towards the front of the coupling.
Then install the spacer under the front of the coupling to bring the coupling to a level plane.
Alternatively, locate the parking brake on a cross arm behind the coupling. However, we do recommend the best place to install braking equipment is ion the one area and that is under the coupling.
Information on Al-ko ratchet park brakes and spacer plates here
Handbrake Safety
Keep hands and fingers clear of ratchet when operating the hand brake.
Regularly inspect cables to ensure tension when the handbrake is in operation
Ensure there is no slack in the hand brake cable. Wear and tear will cause the cable to stretch
Use wheel chocks an additional safety mechanism
Check all bolts and roll pins are correctly tightened and located
Trailer safety chains should not be released until trailer hand brake is secured
Purchase suitable couplings here
Couplemate Trailer Parts sells only the best quality Spacer Plate to suit Ratchet Hand Brakes and caravan spare parts throughout Australia.
Customers are welcome to either pickup or take advantage of our low freight rates. Express shipping to Melbourne, Sydney, Brisbane, Perth, Adelaide, Darwin, and Hobart.
We also ship products to New Zealand via Australia Post Air Express.
© Steve Wotherspoon November 5, 2019. Images and text may be copied, provided a link back to the copied page and the source is displayed where the content or image is located.