Description
Heavy Duty Swing Away Rear Spare Wheel Carrier
Heavy-duty swing-away rear spare wheel carrier suits many 4WD applications including spare tyre mounts (no bearings).
In this application, there is no requirement for high-speed bearings. We decided to manufacturer a more robust spare wheel carrier that could withstand applied stresses. The clearance between hub and stub is 0.02mm and requires greasing prior to insertion.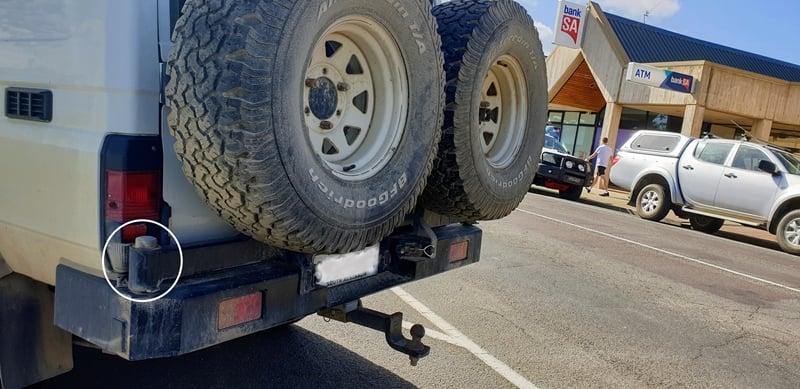 Specifications
We decided 4WD swing away hubs needed to be beefed up as the fulcrum effect is causing a little too much play on the rear bars of 4WD's.
This heavy-duty swing away hub is precision equipment with 0.02mm bearing tolerance between sleeve and stub.
As a result of no high speed turning on this bearing, there is no requirement for a bearing.
The stub axle is 45sq with a 35mm profile to the 1″ x 12 TPI threaded end. Included is a bearing seal a the bottom to contain grease spill.
Purchase more spare wheel carriers here
Finally, we had a customer in our store today using a larger one of these to swing out a Wind Turbine of all things. No, he was not from SA rather a Queensland mining site. Good luck mate, hope it works well.
Heavy Duty Swing Away Rear 4WD Spare Wheel Carrier
Couplemate Trailer Parts sells only the best quality Heavy Duty Swing Away Rear 4WD Spare Wheel Carrier and caravan spare parts throughout Australia.
Customers are welcome to either pickup or take advantage of our low freight rates. Express shipping to Melbourne, Sydney, Brisbane, Perth, Adelaide, Darwin, and Hobart.
We also ship products to New Zealand via Australia Post Air Express.
© Steve Wotherspoon June 7, 2017. Images and text may be copied, provided a link back to the copied page and the source is displayed where the content or image is located.