710mm Shackle Eye to Eye Spring suit single and Tandem Axle Trailers
710mm Shackle Eye to Eye Spring suits single and tandem axle trailers from 900kg to 1800kg. The leaf bolt is 5/16" high tensile and is located in the centre of the spring.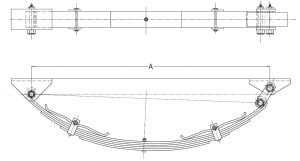 45mm Shackle Spring
28 inch (710mm)
45mm x 8mm leaf springs
Free Camber 120mm
Eye to Centre 355mm
Enable load sharing by linking the 45mm Shackle through a rocker assembly. Load transfers from one axle that is carrying a significant percentage of the weight (crossing kerbs, etc.) to the other axle.
The rear end of the spring is connected to a dumjack whereas the front of the spring is connected to a spring hanger. Shackle plates are used in conjunction with shackle bolts to connect the spring to the dumb jack.
45mm Eye to Eye Springs are rated as follows
Three leaf - 425kg
Four-leaf - 550kg
Five leaf - 650kg
Six leaf- 750kg
Eight leaf - 950kg
TIP: Our most common call for help is wrong spring picked for tandem trailers. Tandem trailers usually have offset springs.
Install electric brakes on both axles over 2000kg.
Why does some eye to eye springs break prematurely and lose spring tension?
Read about vibration fatigue here.
Purchase your 45mm shackle springs below.
Why do springs break? Read all about it here. 
Finally, if you get a chance please review this article.