Description
Shackle Plates for your Caravan | Trailer | Black | Galvanised – Video
Shackle Plates connect the caravan or trailer spring to a dumb jack welded onto your chassis rail. Plates can vary in width from 32mm to 40mm.
Shackle plates are also excellent when used as a clamp. Example a 63mm shackle plate fit over a 50mm u-bolt.
Measure the inside width of the u-bolt you require then add 12mm to get your shackle size.
Purchase 63mm U bolts to fit 75mm shackle plates here.
Where do I weld my hangers?
Ideally, the dumb jack should be welded into position at a distance 25mm longer than your spring. This distanced allowed the correct operation of your caravan or trailer spring.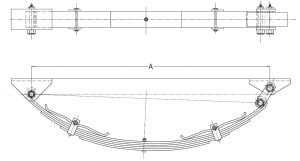 25mm is the minimum distance for 45mm wide springs. For 60mm wide springs, the distance should be 35mm used a min of 75mm centre shackle plates.
Spring hangers welded into position the same eye to eye measurement as the spring will cause problems immediately. This practice is more common than most owners realise.
The remedy is simple, measure your spring length from the middle of the eye to the middle of the eye. Add a minimum of 25mm, and that should be your spring hanger centres.
If your spring hangers are not 25mm larger than your spring eyes, then your back hangers OR front hangers need to be cut and re-welded into the correct position.
Confused? It gets worse. Shackle please come in a variety of centres from 63mm to 90mm, There is also a variety of hole sizes from 1/2 inch to 5/8 inch.
Why all the variations?
There are too many incorrectly installed dumb jacks. Folks have been recommended long shackle plates, different size holes, and bushes.
Steel plates are supplied in black steel or soon are painted while other styles have been galvanised for use on boat trailers or even caravans and off-road campers.
You have been kind enough to read this far so I will tell you the standard. Use a 75mm centre shackle plate with 9/16 inch holes for 45mm springs and 5/8 inch holes for 60mm springs. You only need 75mm centres on your shackle plate.
Read about your correct hanger spacings before replacing your shackle plates.
Finally, if you are confused call Bruce, Chris or Mike at Couplemate and ask them your question. They will probably ask you ho wide and how long your springs are.
Couplemate Trailer Parts sells only the best quality Shackle Plates – Caravan – Trailer and caravan spare parts throughout Australia.
Customers are welcome to either pickup or take advantage of our low freight rates. Express shipping to Melbourne, Sydney, Brisbane, Perth, Adelaide, Darwin, and Hobart.
We also ship products to New Zealand via Australia Post Air Express.
© Steve Wotherspoon November 24, 2015. Images and text may be copied, provided a link back to the copied page and the source is displayed where the content or image is located.