Description
Last updated on January 25th, 2020 at 01:57 pm
835mm shackle spring | 7 Leaf to suit Millard Caravans | 850kg
835mm shackle eye to eye spring used on Millard single axle and Tandem axle caravans. Over time, the 835mm shackle spring can become fatigued and requires replacement.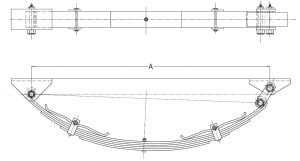 The rear end of the spring is connected to a dumb jack whereas the eye from the front of the spring is connected to a spring hanger. Shackle plates are used in conjunction with shackle bolts to connected the spring to the dumb jack.
Clamped spring swings on shackle bolts plates around a rear hanger.
Enable load sharing by linking the 45mm Shackle through a "rocker" assembly in a multi-axle configuration. Load transfers from one axle that is carrying a significant percentage of the weight (crossing kerbs, etc.) to the other axle.
Note: Al-ko manufacture a range of springs for pop top Millard Caravans going back many years. However, all springs were discontinued with the exception of this 7 leaf shackle spring.
Shackle leaf springs are superior to slipper springs.
Al-ko makes Millard caravan eye to eye shackle springs.
835mm.
850kg per spring.
45mm x 8mm.
9/16″ inch shackle bolt diameter x 3.5″.
Free Camber 120mm.
Eye to Centre 386mm.
Tandem Hanger Centres 912mm.
Single Axle Hanger Centres 870mm.
TIP: Our most common call for help is wrong spring picked for tandem trailers. Tandem trailers usually have offset springs.
Why some springs break prematurely or lose spring tension? Read about vibration fatigue here.
Millard manufactures a range of pop top Caravans.
Purchase your 45mm shackle springs below.
Finally, if you get a chance, please review this product.
Caravan Spring and spare parts choices.
Couplemate Trailer Parts sells only the best quality 45mm Al-ko Millard 7-leaf Shackle Spring 835mm and caravan spare parts throughout Australia. Customers are welcome to either pickup or take advantage of our low freight rates. Express shipping to Melbourne, Sydney, Brisbane, Perth, Adelaide, Darwin, and Hobart. We also ship products to New Zealand via Australia Post Air Express.