Description
45mm Offset Shackle Spring
45mm offset shackle spring is 50mm off-center to enable the axles to be closer on tandem trailers for 14-inch wheels.
This gap can be closed by 50mm to 100mm by turning the spring 180 degrees. Ideal for reducing the difference between the tyres on tandem trailer setups.
28 inch (710)
45mm x 8mm
9/16 inch shackle bolt diameter.
300mm eye to Center Bolt
410mm other eye to center bolt
105mm Free Camber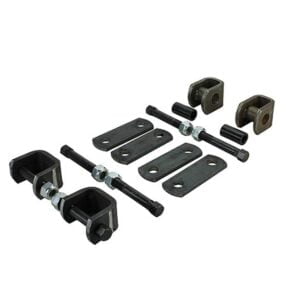 The front hanger connects the front of the spring. The dumb jack connects to the shackle plates hangers which in turn connect to the spring.
Use shackle plates in conjunction with shackle bolts to connected the spring to the dumb jack.
How do I calculate hanger spacing?
Install hangers 25mm longer than your spring for 710mm springs.
For example, 710mm springs will have a 735mm hanger spacing.
Eye to Eye Shackle Springs are rated as follows
Five leaf 650kg
Six leaf 750kg
Why do some springs break prematurely or lose spring tension? Read about vibration fatigue here.
Purchase your 45mm eye to eye springs below:
Finally, if you get a chance, please review this product.
45mm x 710mm Offset Shackle Spring
Couplemate Trailer Parts sells only the best quality 45mm Offset Shackle Spring – 710mm and caravan spare parts throughout Australia.
Customers are welcome to either pickup or take advantage of our low freight rates. Express shipping to Melbourne, Sydney, Brisbane, Perth, Adelaide, Darwin, and Hobart.
We also ship products to New Zealand via Australia Post Air Express.
© Steve Wotherspoon June 29, 2014. Images and text may be copied, provided a link back to the copied page and the source is displayed where the content or image is located.