Showing the single result
6500mm Stainless Braided Hydraulic Hose
6500mm stainless braided hydraulic hose is manufactured to precut lengths from 400mm to 6.5 meters.
Brass Adaptors and Tees
After selecting your stainless braided line, add the adapters and stainless braided line to your shopping cart until your takeoff sheet is all ticked and items are ready for purchase.
Older trailers use flexible rubber brake hoses on their hydraulic braking systems. The rubber hose has either a male/male end or a male/female end.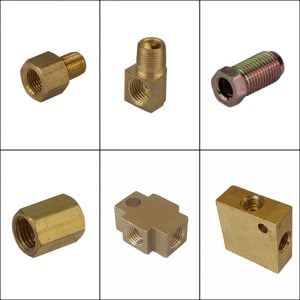 The hose fits Trojan and Alko Hydraulic Disc Calipers.
SAE (Standard American Equipment) compliance is stamped on each hose.
Please note: American brass fittings use a 1/8″ NPT thread whereas the Australian equivalent is a 3/16″ UNF Thread. The thread actually measures 3.8″.
Finally, prevent hydraulic oil leaks by installing copper washers in places where the brass adaptor screws into the caliper.