How to avoid a Towing Disaster with your $80,000 rig. Towing your caravan is not as simple as you would think.
Here are a few things the experts check when servicing your caravan brakes. Great video about Hardings Caravans' expertise.
Rigs above 3500kg can be towed by a pintle arrangement or a 4.5t towing ball set up with a weight distribution hitch.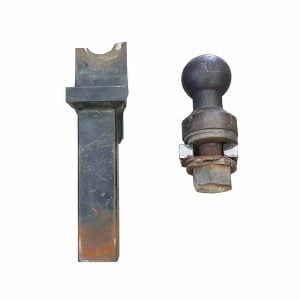 Whilst enlarging your existing receiver bar from 22mm to 32mm might not seem a big deal, it will quickly become evident that this is not a solution for towing your $80,000 rig.
Towing equipment for your caravan rig is simply selecting the right parts. Approved trailer parts here.
What not to do
The image on the right is a well-known heavy-duty brand of receiver bar.
The tow ball has 70mm stamped on top. It does not contain the manufacturer's mark nor the rated load of the tow ball. (AS4771.2 mandates this requirement for tow balls used on public roads)
If your tow ball does not have the correct markings, it is an unapproved device, illegal and not fit for purpose. You could be asked to uncouple your rig.
The receiver bar is Rated to 3.5t; a welder used an oxy torch to neatly enlarge the hole size to 32mm so a 4.5t tow ball could be fitted.
Look closely at the piece wedged in the tow ball; how much steel was pulling this 4.5t rig?
The customer was as white as a ghost when I spoke with him.
The incident happened; he had his $80,000 rig @ 4.5t swaying on his safety chains with no sway control.
The breakaway did not activate the brakes in this emergency because the breakaway switch lanyard was too long.
The towing vehicle controls electric brakes. However, the car no longer holds the trailer brakes during detachment events. The breakaway control kit takes over the braking function and must engage the brakes for not less than 15 minutes.
Remedy
We replaced this broken equipment with "fit for purpose" equipment rated at 4.5t and shortened the breakaway cable when attached to the tow hitch.
Whilst you may be tempted to enlarge your existing 22mm hole, be aware there are ramifications.
Further, we never recommend altering equipment to make it fit. Buying the right part or accessory to do the job is a better investment.
How to avoid a Towing Disaster