Description
The CM525 Pintle Hitch Tow Ball Adaptor is a fantastic product when you need to tow trailer loads more than 3.5 tonnes but under 4.5 tonne. Suited to both 50mm tow balls and 70mm tow balls.
Suits standard pintle hook mounts. Note: some imported pintle hook mounts are different. Please check before your purchase.
Including a tow, ball bracket to suit your pintle hook mounting position. If you have a square receiver tow bar, use the CM525 pintle hitch tow ball adaptor in conjunction with our CM510 – 8 hole pintle adapter for adjustable height.
Black powder-coated.
Suit 32mm x 70mm tow balls and 22mm x 3.5-tonne tow balls
32mm to 22mm bush
4.5t rating when bolted directly to a truck or RV tow bar with the same rating.
Standard hole mounts are 85mm x 45mm
The CM510 Pintle Hitch Adaptor bracket can be used to connect this product to a tow bar.
Furthermore, the Pintle hitch adaptor can be adjusted up and down using the eight-hole pintle hook adaptor bracket. Click the image on the right to purchase this height adjusting adaptor.
When used in conjunction with the pintle adaptor image on the right, the below ratings apply.
Finally, we do not recommend inverting this tow ball adaptor (CM525).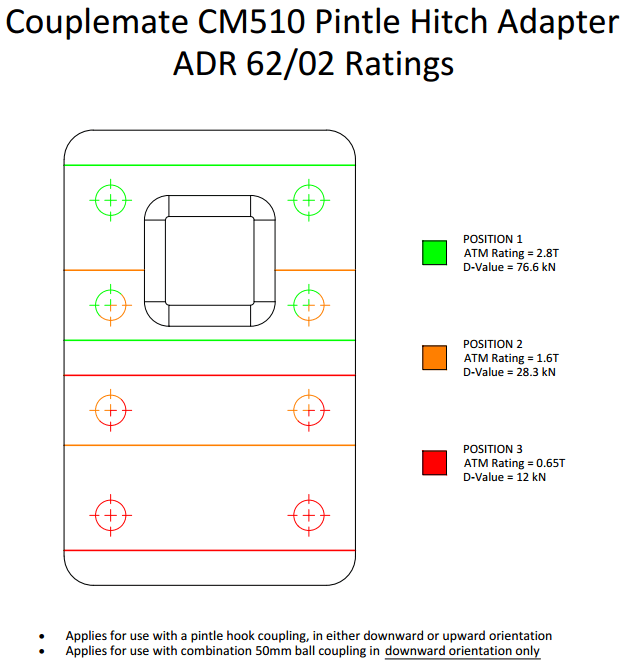 Pintle Hitch Tow Ball Adaptor
Couplemate Trailer Parts sells only the best quality Pintle Hitch Tow Ball Adaptor and caravan spare parts throughout Australia.
Customers are welcome to either pickup or take advantage of our low freight rates. Express shipping to Melbourne, Sydney, Brisbane, Perth, Adelaide, Darwin, and Hobart.
We also ship products to New Zealand via Australia Post Air Express.
© Steve Wotherspoon September 10, 2014. Images and text may be copied, provided a link back to the copied page and the source is displayed where the content or image is located.
Last Updated on