Description
Combination Pintle Hook incl 3500kg Tow Ball – D-Value 33.6kN
CM500 Combination Pintle Hook, ideal for towing with a 50mm ball coupling and occasionally with a Ring Coupling. Rated at 6t.
The Couplemate Combination Pintle Hook is the best-selling pintle hook on the Australian Market. Ideal when towing with a 50mm ball coupling and occasionally with a Ring Coupling.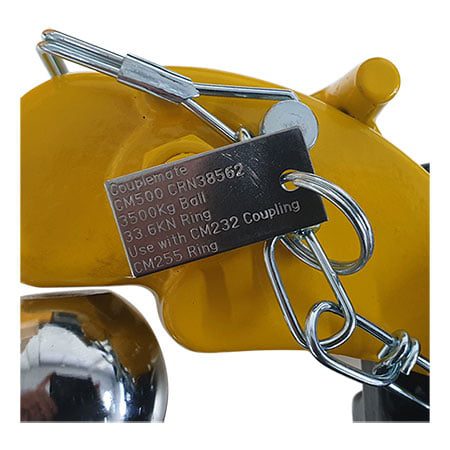 Please Note, NHVR states from 1st September 2017, 50mm tow balls de-rated to 2000kg when connected to tow vehicles 5t and larger.
The capacity of the ring coupling remains unchanged at 6t.
This high frequency towing can damage the tow ball, and we recommend the CM532 for higher frequency ring coupling towing (image right).
Purchase replacement tow ball here.
The Couplemate CM500 Combination Pintle Hook is rated at 6t on the ring and includes a safety catch. 3500 kg Tow Ball D Value = 3.6t or 33.6 kN and is ADR Approved (*c)
Standard 4 hole pintle hook mounts.
4 x High Tensile Bolts and Nuts supplied.
Are you towing with a ring coupling for long periods? Are your trailers likely to incur shock loading from mine sites, barge loading, etc.? For these towing situations, you should check out the low wear CM532 Combo Pintle Hook.
CRN identification number for this product is on your Invoice. The CRN on the approval letter will be the same CRN on your Invoice.
During the vehicle registration process, inspectors may ask you for the CRN on your invoice.
Regulations for Towing and Accessories over 4.5t
Combination Pintle Hook
Couplemate Trailer Parts sells only the best quality Combination Pintle Hook – 3.5t Tow Ball – D-Value 34.08kN and caravan spare parts throughout Australia.
Customers are welcome to either pickup or take advantage of our low freight rates. Express shipping to Melbourne, Sydney, Brisbane, Perth, Adelaide, Darwin, and Hobart.
We also ship products to New Zealand via Australia Post Air Express.
© Steve Wotherspoon June 15, 2014. Images and text may be copied, provided a link back to the copied page and the source is displayed where the content or image is located.