Combination Pintle Hook incl 3500kg Tow Ball - D-Value 33.6kN
CM500 Combination Pintle Hook, ideal for towing with a 50mm ball coupling and occasionally with a Ring Coupling. Rated at 6t.
The Couplemate Combination Pintle Hook is the best-selling pintle hook on the Australian Market.
Pintle Hook vs Pintle Ball
Ideal when towing with a 50mm ball coupling and occasionally with a Ring Coupling. Heavy trailer loads over 3.5t often have a ring coupling attached to the trailer.
This combination eliminates the need to swap the existing coupling to a more suitable coupling.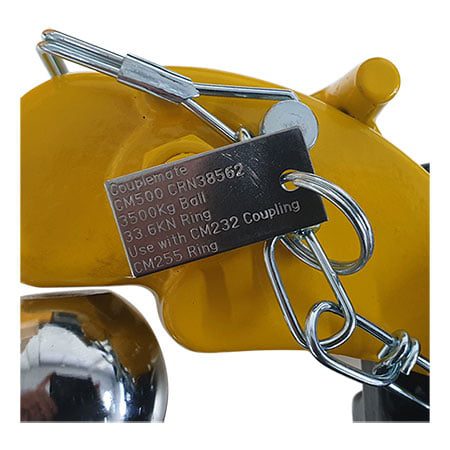 Please note the NHVR states that 50mm tow balls must be de-rated for tow vehicles over 5t. Refer to Vehicle Standards guide VSG-16 for de-rating.
The capacity of the ring coupling remains unchanged at 6t.
This high-frequency towing can damage the tow ball, and we recommend the CM532 for higher-frequency ring coupling towing (image right).
Purchase replacement tow ball here.
The Couplemate CM500 Combination Pintle Hook is rated at 6t on the ring and includes a safety catch. 3500 kg Tow Ball D Value = 3.6t or 33.6 kN and is ADR Approved (*c)
Standard 4 hole pintle hook mounts (85mm x 45mm)
4 x High Tensile Bolts and Nuts supplied.
Are you towing with a ring coupling for long periods? Are your trailers likely to incur shock loading from mine sites, barge loading, etc.? For these towing situations, you should check out the low wear CM532 Combo Pintle Hook.
The CRN identification number for this product is on your Invoice. The CRN on the approval letter will be the same on your Invoice.
During the vehicle registration, inspectors may ask you for the CRN on your invoice.
Regulations for Towing and Accessories over 4.5t
Combination Pintle Hook
Additional information
| | |
| --- | --- |
| Weight | 5 kg |
| Dimensions | 20 × 18 × 15 cm |
| Pintle Protector | |