Description
75mm x 2t Ring Override Coupling – 75mm, 3″ Hole, 41mm wide ring
75mm x 2t ring override coupling suits all types of Pintle Hooks.
The width of the override ring is 40mm
4 Hole spacings 184mm x 54m x 1/2 inch
This Ring Coupling has a 360-degree rotation
Use pintle hooks when connecting a 75mm ring coupling on the tow vehicle.
75mm x 2t Ring couplings provide greater flexibility over ball couplings and are less likely to disengage over rough or uneven terrain.
75mm ring couplings with a greater capacity than 2t are used as towing hooks on trailers up to 40t. The limiting factor in this override pintle coupling is the spring within the housing. This sprin\g limits the load to 2t.
Limit Rotation when Reversing
Coupling base park plate by Trigg Bros is essential to used on swivel ring couplings to limit rotation.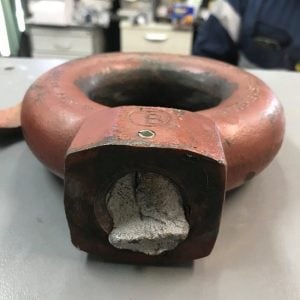 Limited rotation helps prevent severe damage to ring couplings. The elongated end on the parking brake prohibits over-rotation.
The bottom base seals override couplings preventing grease escaping.
Drivers should also be aware of the opportunity jackknife reversing on ann angle. Quite often the driver will be unaware of a jackknife event is occurring at very low speeds.
Importantly, take care when reversing as the uneven ground can cause the coupling to twist and bend the pintle hook head.
As a result, of reversing on sharp angles (Jackknifing), the shaft on the ring coupling will bend.
Hairline Fractures
We have found during jackknife events couplings do not instantly break. However, hairline cracks develop over time and compound until separation occurs.
The event will be relatively minor and seem insignificant. The truth is, cumulative fractures over time have finally caused a separation. Separation is evidenced by rust marks in the bare metal.
Driver Education
Driver education is the key to safe motoring. Vehicle and trailer inspection is a must before driving, especially high wearing components.
Where signs of wear and tear is discovered, report it to your immediate supervisor and/or log the event for your own protection..
List of available ring couplings and tow eyes:
Couplemate Trailer Parts sells only the best quality 75mm x 2t Ring Override Coupling and caravan spare parts throughout Australia.
Customers are welcome to either pickup or take advantage of our low freight rates. Express shipping to Melbourne, Sydney, Brisbane, Perth, Adelaide, Darwin, and Hobart.
We also ship products to New Zealand via Australia Post Air Express.
© Steve Wotherspoon December 13, 2014. Images and text may be copied, provided a link back to the copied page and the source is displayed where the content or image is located.