Description
Last updated on January 11th, 2020 at 12:21 pm
3″ x 45t Tow Ring, bolt-on from Wallace Forge
3″ Tow ring or towing eye with a GTW of 45t and a V-Value of 9t. Finished with black powder coat for superior durability and corrosion resistance.
Specifications
CRN-37264
D-value: 165 kN
Wallace Forge has manufactured Pintle Hooks and Eyes since 1942.
This family company is situated in the U.S.A at Canton, Ohio and have been associated with Transparts since early 1989.
Wallace Forge Pintle Hooks and Eyes have been tested to the Australian Design Standard (ADR62/02).  Wallace Forge Company, through Transparts, handle a full range of swivel and rigid mounted pintle hooks and drawbar eyes, ranging in capacity from 7 tonne – 50 tonnes.
List of available ring couplings and tow eyes:
45t x 3″ Tow Ring Bolt-on | D-Value 165kN.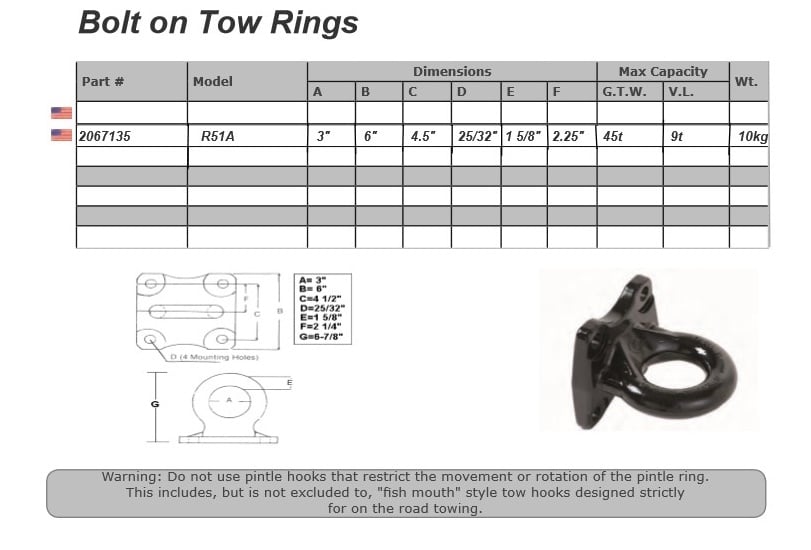 Couplemate Trailer Parts sells only the best quality 3″ x 45t Tow Ring Bolt-on and caravan spare parts throughout Australia. Customers are welcome to either pickup or take advantage of our low freight rates. Express shipping to Melbourne, Sydney, Brisbane, Perth, Adelaide, Darwin, and Hobart. We also ship products to New Zealand via Australia Post Air Express.