Description
Last updated on January 11th, 2020 at 12:26 pm
DO65 Pintle Hook Adaptor Bracket has 84mm x 45mm hole pattern. Suits 6t Pintle Ring Mount by Cruisemaster ensures a silent rigid connection.
Hook up your trailer with ease, with the Cruisemaster™ DO65 Pintle Hook Adapter.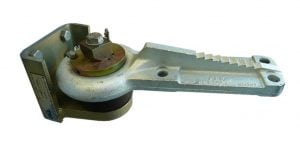 The Cruisemaster™ DO65 is the big brother in our range of premium quality couplings and tow hitches.
This Supa-Alloy 5 (SA5) plated pintle hook adapter allows the DO65 to be mounted from a pintle hook mounting point.
Previously known as the VC018, this Cruisemaster coupling has a D-Value of 34.3kN (3.5T) and allows quiet operation in conjunction with a 75mm NATO ring.
Purchase other products here:
DO65 Pintle Hook Adaptor Bracket suits 6t Pintle Ring Coupling Mount
Couplemate Trailer Parts sells only the best quality DO65 Pintle Hook Adaptor and caravan spare parts throughout Australia. Customers are welcome to either pickup or take advantage of our low freight rates. Express shipping to Melbourne, Sydney, Brisbane, Perth, Adelaide, Darwin, and Hobart. We also ship products to New Zealand via Australia Post Air Express.